Inspired by history for the future of farming
Using fish in arable farming is not a new phenomenon. The practice can be traced back to the ancient Roman empire on this side of the Atlantic, and there are stories of Native Americans showing the Pilgrims how to grow corn by planting a fish with each seed. It may have all started as a happy coincidence when farmers observed that plants performed better when decomposing fish were left near them, but thanks to science and research, we now have a good understanding of how fish material positively affects crops and the soils that support them. Mindful of the Farm to Fork Strategy in Europe which is looking for a 20% decrease in the use of chemical fertilisers by 2030, Dr Geraldine Fox and the team at Pelagia has developed the UKs first liquid fish hydrolysate approved by Animal & Plant Health Agency (APHA) for use as an organic soil improver which is also approved as an input to organic farming systems by the Soil Association. Sea2Soil revives a traditional farming method that time has forgotten, one which aligns with the path of regenerative farming.
Pelagia has an over 100-year history of utilising fish and fish by-products from human consumption processing to produce valuable and highly nutritious feed materials. Long before circular economy waste management and waste valorisation became buzz words, Pelagia has been recycling 100% of fish waste to produce economically important products.
In 2019, our processing plant in Bressay on the Shetland Isles expanded its operations and obtained a licence to utilise the by-products from Scottish salmon farms with the aim of zero waste from this industry. Here in the UK, this type of product would ordinarily have gone into anaerobic digestion as a feedstock where the beneficial nutrients and characteristics of the hydrolysate are somewhat diluted by other stock materials. Our goal is to retain the integrity of the rich source of essential amino acids, fats, macro- and micronutrients contained in the hydrolysate and offer it in as pure a form as possible that can be easily incorporated into many formulations.
Sea2Soil acts by feeding your soil bacteria, in turn converting the macro and micro-nutrients contained into a form that is more readily available to the plants. We have evidence that Sea2Soil, which is naturally high in fat, promotes the growth of fungi, which are hugely important in soil root systems, performing important functions within the soil in relation to nutrient cycling, disease suppression and water dynamics. The improved microbial populations also feed secondary and higher-level consumers like protozoa, nematodes, and earthworms, which work to improve soil structure by aerating the soil leading to better root development and reduction in abiotic stress. These macro-organisms also contribute to improved nutrient availability within the soil through excretion providing additional bioavailable nutrients to the growing plant.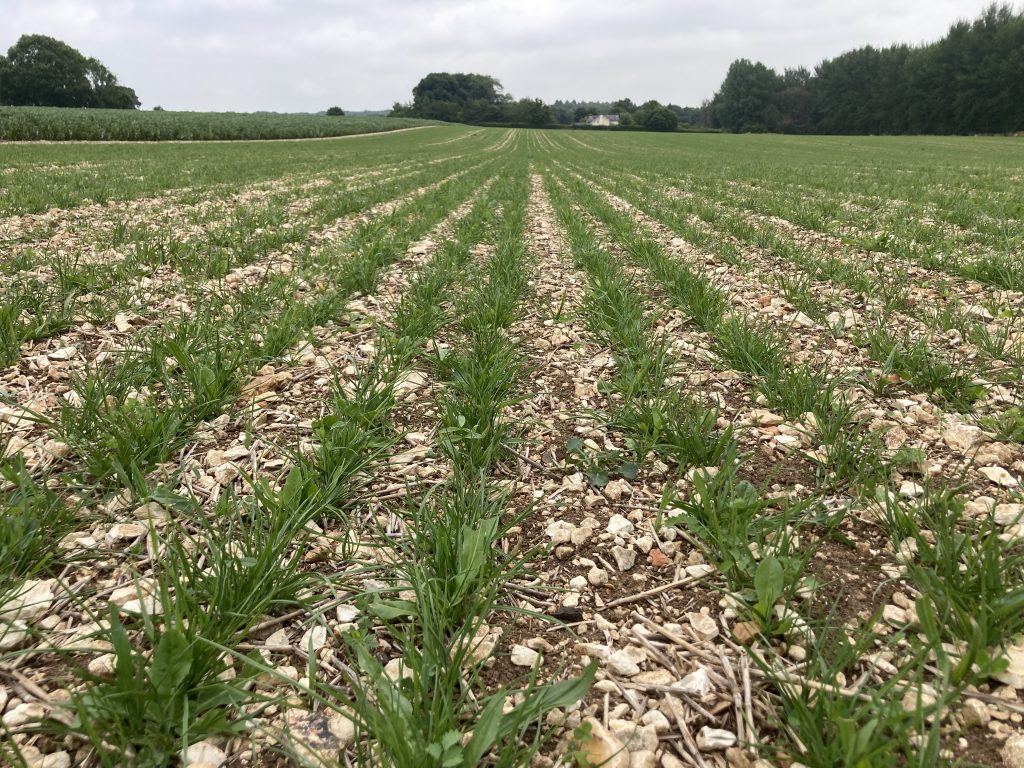 For the past 3 years we have been refining our process to produce an organic soil improver that is affordable, delivers on yield responses, reduces reliance on chemical inputs and is farmer friendly. We have resisted the temptation to call it a fertiliser, because it is so much more than that. We see it as a prebiotic for your soil leading to:
A healthier soil environment;
Increased crop health;
Reduced reliance on chemical fertilisers; and
Promotion of a regenerative ecosystem, where the environment and its living populations can renew and recover from damage and stress.
Farm trials began in 2020 across various locations within the UK and on various crop types such as wheat, barley, oilseed rape, oats and beans. The aim was to identify how and if yield performance was affected and to identify any areas of further product development. We found that yield was either maintained or showed an increase, but what the results highlighted was that return on investment was higher, due to the reduction of chemical inputs. We continue to develop this knowledge portfolio testing its effects in vineyards, orchards and Christmas tree farms as well collaborating with various research groups.
Paul Davey runs Girsby Farm Services, a progressive agricultural contractor with a commitment to providing high quality crop production services to customers with interests in conservation and regenerative agriculture, and has been using Sea2Soil on his land in Lincolnshire.
Paul has seen first hand the positive effects of our product: "The dry conditions this last spring and summer presented challenges in a number of different crops, especially maintaining plant nutrition and managing the associated stresses. There were visible benefits for maintaining growth in the herbal ley established in May which received a 10 lt/ha of Sea2Soil application through fertiliser streamer nozzles in June. This application stimulated a good deal of growth within three weeks in a very dry time. Two applications of 10 lt/ha of Sea2Soil on the spring beans during the same dry spell improved the canopy growth of the beans and removed the chlorotic symptoms of stress, significantly improving the verdancy of the plants."
Looking back not even a hundred years, it's easy to see how rapidly the industry has favoured chemical enhancement over natural counterparts – a change which we all know can be put down to countless societal and industry-specific pressures. None of us knew it at the time, but introducing chemicals was a case of solving one issue while causing many others, including topsoil erosion and the destruction of soil health which in turn has been detrimental to our crops. Sea2Soil can positively contribute to the recovery of soil health, by improving soil biology and soil microbial populations, hastening the restoration of our topsoil and improving overall plant health.