January 2023
If you are like us, then you don't know where to start when it comes to other reading apart from farming magazines. However, there is so much information out there that can help us understand our businesses, farm better and understand the position of non-farmers.
We have listed a few more books you might find interesting, challenge the way you currently think and help you farm better.
One Size Fits None: A Farm Girl's Search for the Promise of Regenerative Agriculture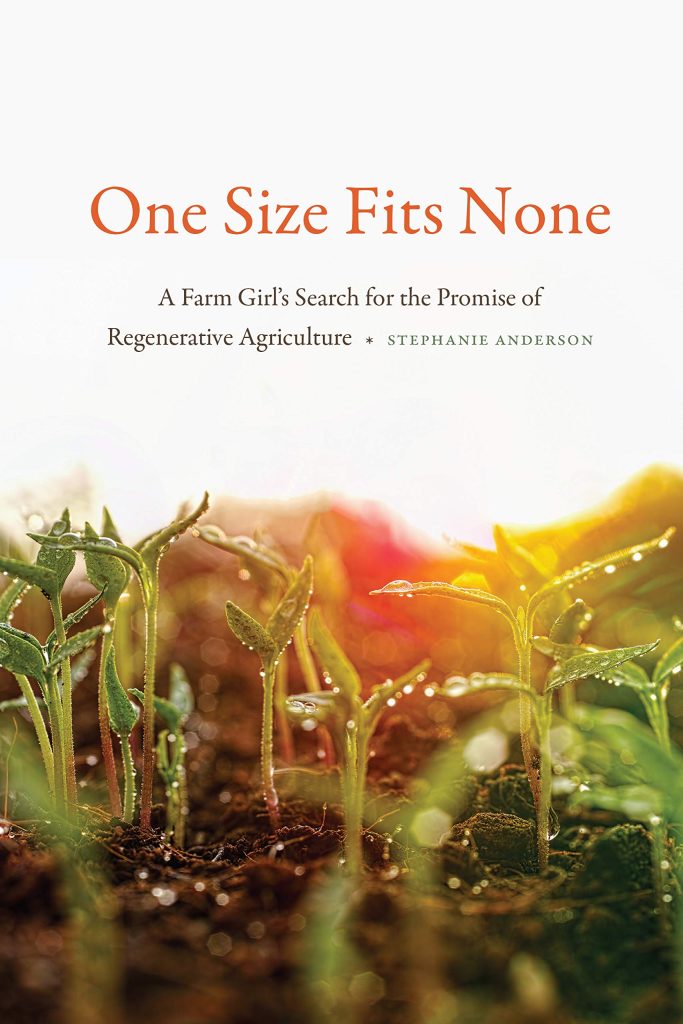 "Sustainable" has long been the rallying cry of agricultural progressives; given that much of our nation's farm and ranch land is already degraded, however, sustainable agriculture often means maintaining a less-than-ideal status quo. Industrial agriculture has also co-opted the term for marketing purposes without implementing better practices. Stephanie Anderson argues that in order to provide nutrient-rich food and fight climate change, we need to move beyond sustainable to regenerative agriculture, a practice that is highly tailored to local environments and renews resources.
In One Size Fits None,Anderson follows diverse farmers across the United States: A South Dakota bison rancher who provides an alternative to the industrial feedlot; an organic vegetable farmer in Florida who harvests microgreens; a New Mexico super-small farmer who revitalizes communities; and a North Dakota midsize farmer who combines livestock and grain farming to convert expensive farmland back to native prairie. The use of these nontraditional agricultural techniques show how varied operations can give back to the earth rather than degrade it.
The book is published by University of Nebraska Press. The audiobook is published by University Press Audiobooks.
"An invaluable resource, a step in the right direction of imagining alternative way of doing and organizing life around the soil and farming." (Grist: A Journal of the Literary Arts)
"A brave and clear-eyed book by a farmer's daughter about the problems in our agriculture and the factors that keep farmers from making it better." (Kristin Ohlson, author of The Soil Will Save Us)
"Should be required listening for anyone who yearns for a clear-headed and informed account of our dysfunctional corporate food system." (Andrew Furman, author of Bitten: My Unexpected Love Affair with Florida)
Restoration Agriculture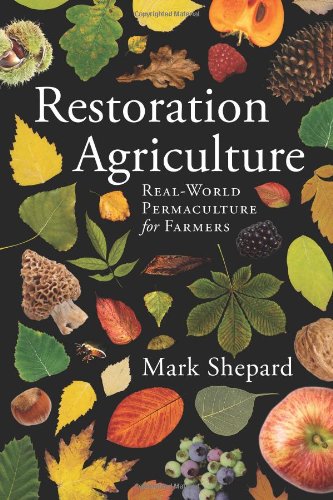 Around the globe most people get their calories from annual agriculture – plants that grow fast for one season, produce lots of seeds, then die. Every single human society that has relied on annual crops for staple foods has collapsed. Restoration Agriculture explains how we can have all of the benefits of natural, perennial ecosystems and create agricultural systems that imitate nature in form and function while still providing for our food, building, fuel and many other needs – in your own backyard, farm or ranch. This book, based on real-world practices, presents an alternative to the agriculture system of eradication and offers exciting hope for our future.
The Unsettling of America: Culture & Agriculture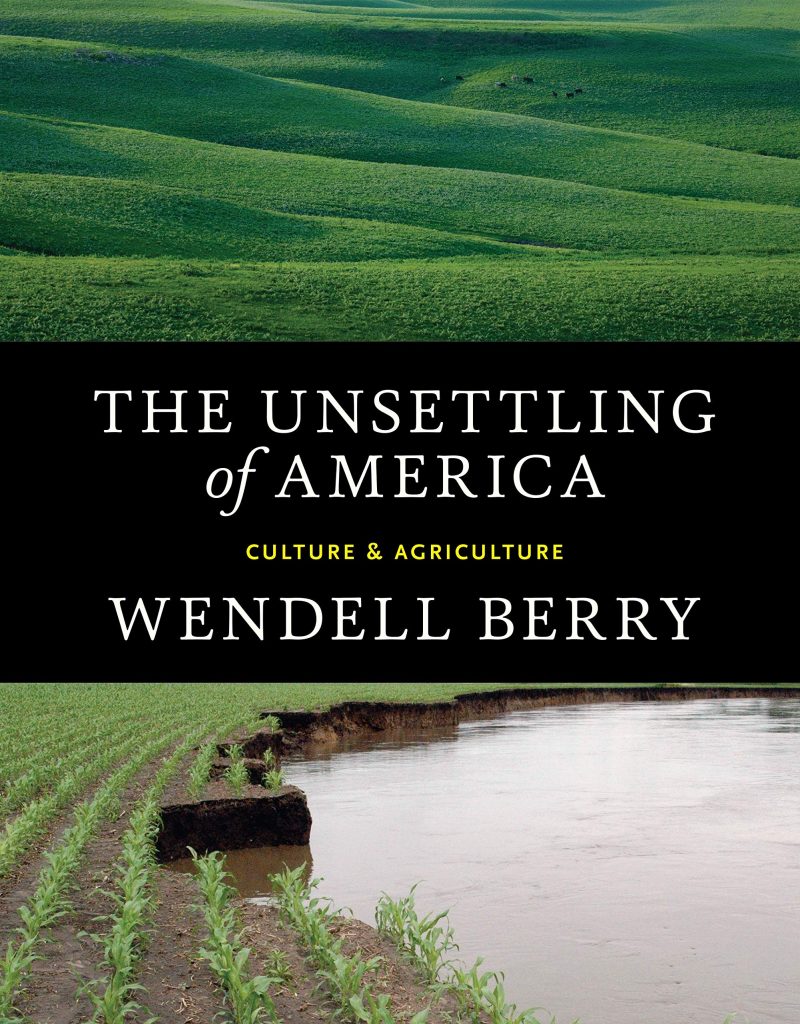 Since its publication in 1977, The Unsettling of America has been recognized as a classic of American letters. In it, Wendell Berry argues that good farming is a cultural and spiritual discipline. Today's agribusiness, however, takes farming out of its cultural context and away from families. As a result, we as a nation are more estranged from the land―from the intimate knowledge, love, and care of it.
Sadly, his arguments and observations are more relevant than ever. Although "this book has not had the happy fate of being proved wrong," Berry writes, there are people working "to make something comely and enduring of our life on this earth." Wendell Berry is one of those people, writing and working, as ever, with passion, eloquence, and conviction.
What Your Food Ate: How to Heal Our Land and Reclaim Our Health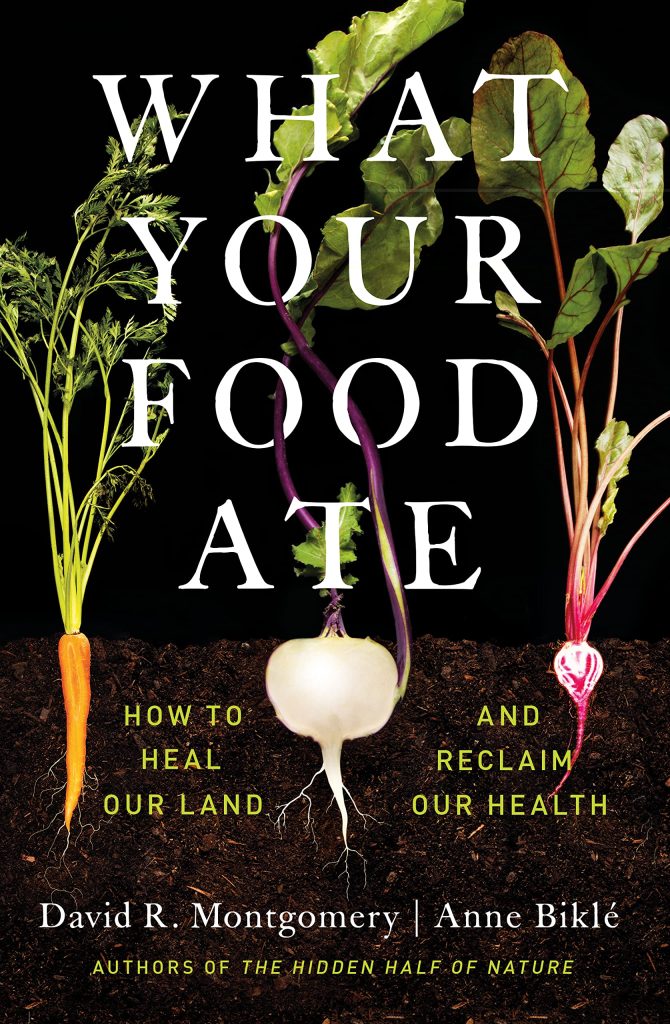 David R. Montgomery and Anne Biklé take us far beyond the well-worn adage to deliver a new truth: the roots of good health start on farms. What Your Food Ate marshals evidence from recent and forgotten science to illustrate how the health of the soil ripples through to that of crops, livestock, and ultimately us.
The long-running partnerships through which crops and soil life nourish one another suffuse plant and animal foods in the human diet with an array of compounds and nutrients our bodies need to protect us from pathogens and chronic ailments. Unfortunately, conventional agricultural practices unravel these vital partnerships and thereby undercut our well-being. Can farmers and ranchers produce enough nutrient-dense food to feed us all? Can we have quality and quantity?
With their trademark thoroughness and knack for integrating information across numerous scientific fields, Montgomery and Biklé chart the way forward. Navigating discoveries and epiphanies about the world beneath our feet, they reveal why regenerative farming practices hold the key to healing sick soil and untapped potential for improving human health.
Humanity's hallmark endeavors of agriculture and medicine emerged from our understanding of the natural world―and still depend on it. Montgomery and Biklé eloquently update this fundamental reality and show us why what's good for the land is good for us, too. What Your Food Ate is a must-read for farmers, eaters, chefs, doctors, and anyone concerned with reversing the modern epidemic of chronic diseases and mitigating climate change.
Farmacology: Total Health from the Ground Up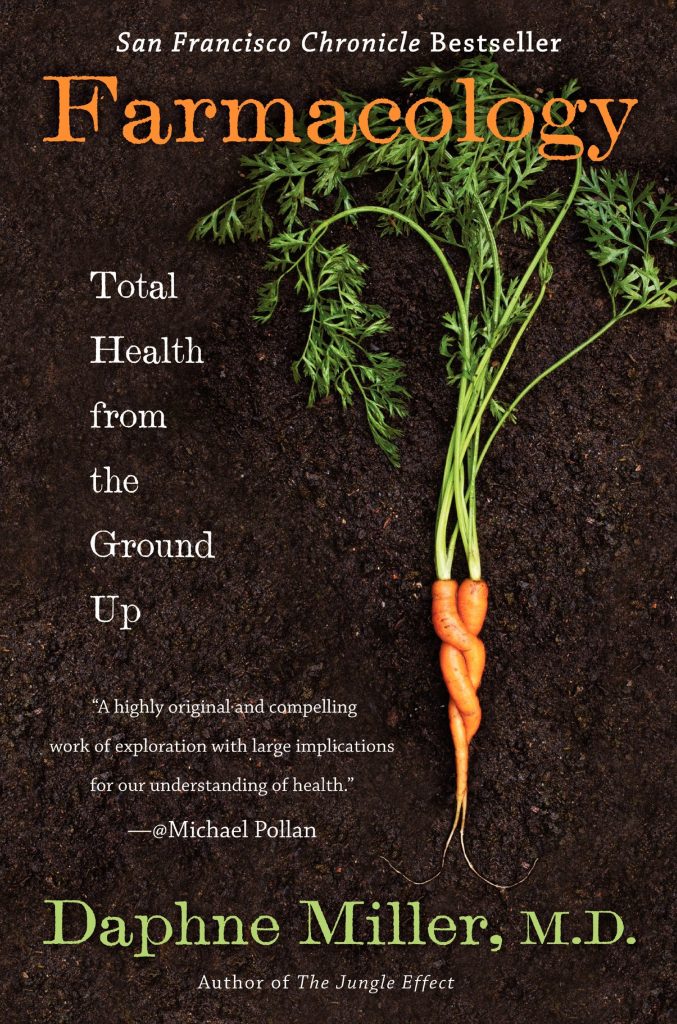 In Farmacology, practicing family physician and renowned nutrition explorer Daphne Miller brings us beyond the simple concept of "food as medicine" and introduces us to the critical idea that it's the farm where that food is grown that offers us the real medicine.
By venturing out of her clinic and spending time on seven family farms, Miller uncovers all the aspects of farming—from seed choice to soil management—that have a direct and powerful impact on our health. Bridging the traditional divide between agriculture and medicine, Miller shares lessons learned from inspiring farmers and biomedical researchers and artfully weaves their insights and discoveries, along with stories from her patients, into the narrative. The result is a compelling new vision for sustainable healing and a treasure trove of farm-to-body lessons that have immense value in our daily lives.
In Farmacology you will meet:
a vegetable farmer in Washington State who shows us how the principles he uses to rejuvenate his soil apply just as well to our own bodies. Here we also discover the direct links between healthy soil and healthy humans.
a beef farmer in Missouri who shows how a holistic cattle-grazing method can grow resilient calves and resilient children.
an egg farmer in Arkansas who introduces us to the counterintuitive idea that stress can keep us productive and healthy. We discover why the stressors associated with a pasture-based farming system are beneficial to animals and humans while the duress of factory farming can make us ill.
a vintner in Sonoma, California, who reveals the principles of Integrated Pest Management and helps us understand how this gentler approach to controlling unwanted bugs and weeds might be used to treat invasive cancers in humans.
a farmer in the Bronx who shows us how a network of gardens offers health benefits that extend far beyond the nutrient value of the fruits and vegetables grown in the raised beds. For example, did you know that urban farming can lower the incidence of alcoholism and crime?
finally, an aromatic herb farmer in Washington State who teaches us about the secret chemical messages we exchange with plants—messages that can affect our mood and even keep us looking youthful.
In each chapter, Farmacology reveals the surprising ways that the ecology of our body and the ecology of our farms are intimately linked. This is a paradigm-changing adventure that has huge implications for our personal health and the health of the planet.