Pasture and Profit in Protected Landscapes is a free, farmer-led programme of farm walks, events and webinars open to everyone farming in the Protected Landscapes of Surrey Hills, High Weald and Kent Downs. The programme is being run by Pasture for Life in partnership with the Protected Landscapes. We believe that farmers learn best from other farmers, so over the next 15 months farmers in Surrey, Sussex and Kent are opening up their farms to share how their low input approach to grazing sheep and cattle has helped protect their farm business from the crippling increases in fertiliser, feed and fuel costs, and mitigate the effects of the drought.
From mob grazing to conservation grazing, they demonstrate a range of approaches for managing their land and the challenges and the opportunities of farming in this way. The benefits include:
Financial gain
Improved pasture
Increased biodiversity
Improved soil health and landscape management
Reduced (or removed) workload associated with indoor housing
Reduced worm burden on stock
By joining the programme, you are NOT expected to become Pasture for Life Certified or transition to a 100% pasture-fed or 100% mobile grazing system. The programme is designed to meet your needs and support you, whatever your current system or goals.
Free Pasture for Life membership
When you register for the programme, if you are not already a PfL member, you will automatically receive free PfL membership until March 2024 which normally costs £100 a year. This will enable you to additionally benefit from being part of our engaged and supportive community, as well as the work we do across areas such as the supply chain, marketing and academic research, and access to our forum, which is full of advice and support from other farmers who will often be facing the same challenges as you. You do not have to provide any financial details when signing up, and you can choose whether to continue with PfL membership at the end of the programme.
Mentoring
By registering for the Pasture and Profit in Protected Landscapes Programme, you can also apply to be mentored for up to a year by a farmer with experience of rotational grazing.
We have trained 12 Pasture for Life farmers as mentors across Surrey, Sussex and Kent who have a range of approaches to grazing with sheep and cattle. For instance, some house their cattle over the winter while some leave their cattle out year-round. What they have in common is that they are all 100% pasture-fed with no grain or feed inputs, and all have adopted some form of rotational grazing. Without exception, they find that the way they now farm is more profitable than the system they inherited, that it has increased biodiversity and improved the health of their stock and pasture, and has made their farm business more resilient in times of extreme weather and spiralling costs. The experience has been transformative for them, and they are keen to share their learning with other farmers whether they are just curious to see other approaches or are wanting to change how they farm.
Signing up
For more information or to register for the programme, please email Sarah at Sarah@pastureforlife.org and she will email you a simple registration form, or call Deborah on 07543286709. Please note you must be farming in the Protected Landscapes of the Surrey Hills, High Weald or Kent to qualify.
Pasture and Profit in Protected Landscapes is funded by the Farming in Protected Landscapes Fund (FiPL) and supported by the Surrey Hills, High Weald and Kent Downs Protected Landscape Partnerships.
Meet a Mentor behind Pasture & Profit
Andrew Lingham, Court Farm Butchery, Rochester, Kent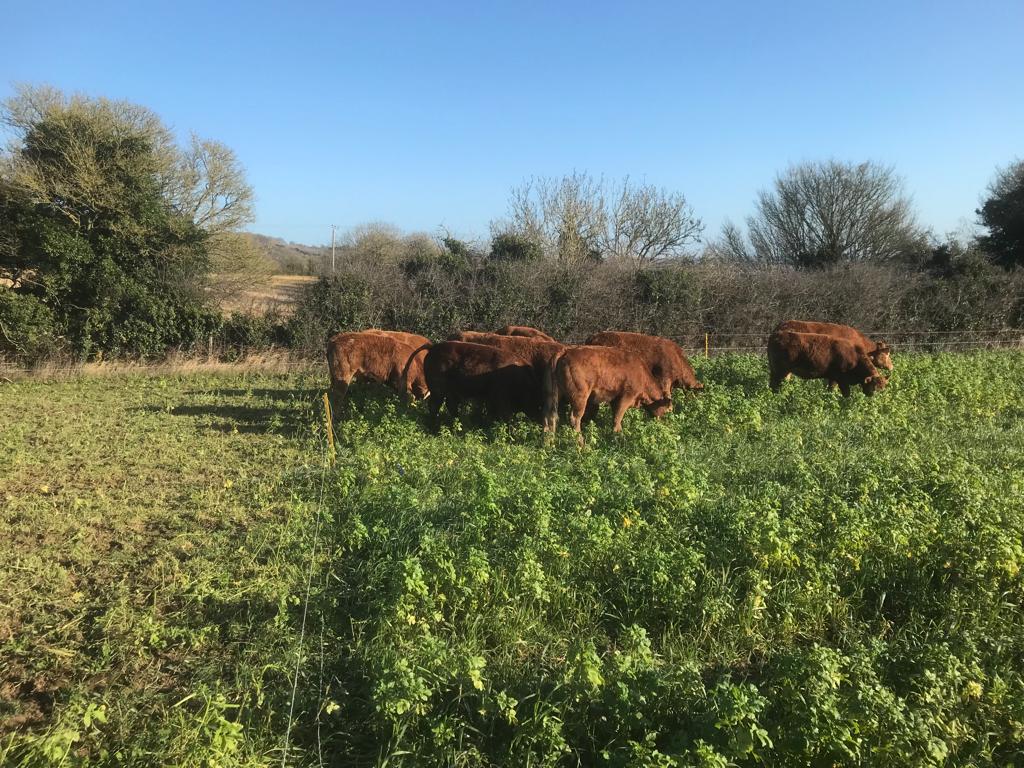 Andrew runs a 320-hectare mixed farm, with 220 hectares of arable crops – including cereals, various beans, linseeds, millet and heritage wheat varieties – alongside his Pasture for Life Certified 30-40 strong herd of native breed store cattle and around 150 Romney store lambs.
For Andrew, this mixed, integrated system is key to his success. His animals offer a valuable additional revenue stream through his butcher's shop, but perhaps more importantly, they play a crucial role in building soil organic matter and recycling nutrients. He has very little permanent pasture, and for the most part grazes his animals on cover crops, using a 60/40 rule. In his words, "you don't let the animals graze down to the floorboards. Let them take 60%, and trample the remaining 40% back into the ground." This approach, he says, is "far superior" compared to just using cover crops alone, and means the animals are "feeding themselves, feeding the soil, maintaining soil structure and increasing organic matter." How long he leaves his animals on a crop depends on the conditions – in dry weather they will graze an area for around 3 days, but in wetter conditions it can be as little as 1-2 days to protect the ground from trampling.
"We actually see our animals gain more weight over winter by grazing on our cover crops than we do in the summer off the permanent pasture", he remarks, demonstrating just how drastically different farming can look compared to conventional systems based on feeding costly inputs to grazing animals over winter. "This is a pretty low-cost system, and by low cost I don't mean low output, it is truly working with nature. I know it's an old cliche that's fairly overused, but the further you get into this the more you can see that natural processes actually work if you don't interfere with them too much."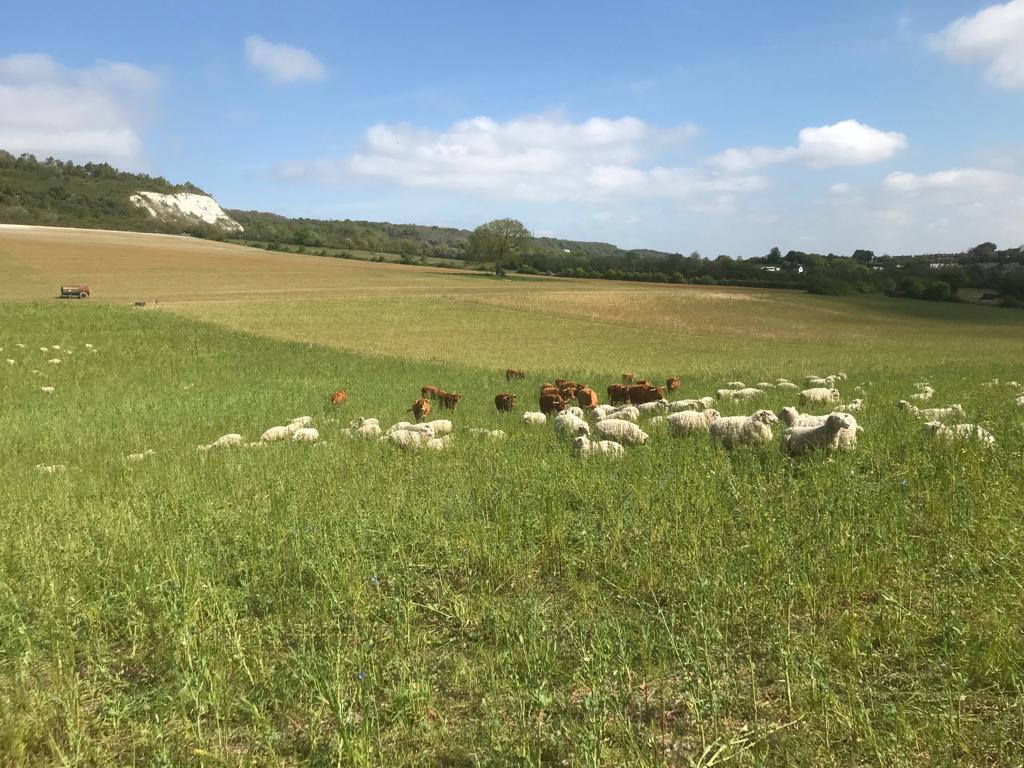 Andrew has always been drawn to doing things differently and questioning the status quo – for example, he started treating his animals homoeopathically in the mid-90s. He now thinks he can bring that questioning mindset to his role as a mentor, for those who are also open-minded to new approaches and wanting to make some changes. "I don't have all the answers, but I'm happy to be a sounding board and guide people through the approach. And I don't like lecturing people, but if you're interested and want to learn, I've learnt a hell of a lot and I want to pass this on."
His approach is certainly working. "My veterinary bills are pretty much zero, and it's been years since I used antibiotics. Our worming treatment is pretty much just rotational grazing, and the use of some diatomaceous earth and seaweed kelp," he says, when asked about other ways this approach has benefited his farm. Andrew has particular interest in building both the gut microbiomes of his animals and microbiome of his soil, and speaks to the interconnectedness of the two. One way he does this is by brewing his own microbial treatment, full of beneficial bacteria and fungi for his animals, which is put in their water. This keeps their gut microbiomes healthy and stable, and further inoculates the soil through their waste; another example of his holistic approach having multiple benefits across the farm.
Andrew talks with enthusiasm about how for him, every day is a learning day, grappling with new questions and challenges and thinking through how to approach them. This often sees him tapping into a global network of farmers who are also turning to nature-led, low-input systems. 'It's so easy for the current generation to learn if they're interested. There is so much information available online. In mentoring I see myself as a bit of a guide towards people and resources who have been mentors for me, people across the world who you can tap into and who do actually respond. When they come back and answer some pertinent questions you have, you really feel that you are part of a global movement."
If you're interested in being mentored by someone like Andrew, please email Sarah at Sarah@pastureforlife.org and she will email you a simple form, or call Deborah on 07543286709 to register for the programme, and state your interest in getting a mentor. Please note you must be farming in the Protected Landscapes of the Surrey Hills, High Weald or Kent to qualify.