KUHN has unveiled an updated, lightweight Megant drill featuring new tine coulters, an updated terminal, and the option to add a second hopper. The Megant 602R shares functionality with the previous 600 model, but features half width shut off and can be specified with an additional SH 1120, 110 litre hopper to drill two crops in the same pass.
Due to its lightweight design, the Megant can be operated by tractors with as little as 150 horsepower. Three types of tines can be specified on the Megant, including reversible forward action, straight, and a new narrow 12mm straight tine coulter which reduces soil displacement through improved penetration and also reduces wear on the tine thanks to the addition of carbide plated points.
A new VT 30 terminal makes the Megant suitable for tractors with and without ISOBUS. Large buttons, a shock proof casing and ergonomic design make the terminal easier to operate and more durable. Compatibility with both KUHN CC1 800-1200 and other ISOBUS terminals will make the Megant more accessible to all users and will offer the economy of not needing to purchase a second control terminal for tractors already fitted with a compatible model.
The 602R has inherited some features from the larger ESPRO drill including spring loaded nonstop track eradicators and side markers that are better suited to dry conditions. A new welded 1800 litre hopper capable of holding 1200 kilos of wheat and drilling 60 hectares a day replaces a riveted hopper on the previous model. The new hopper also includes internal steps to improve access to the distribution head.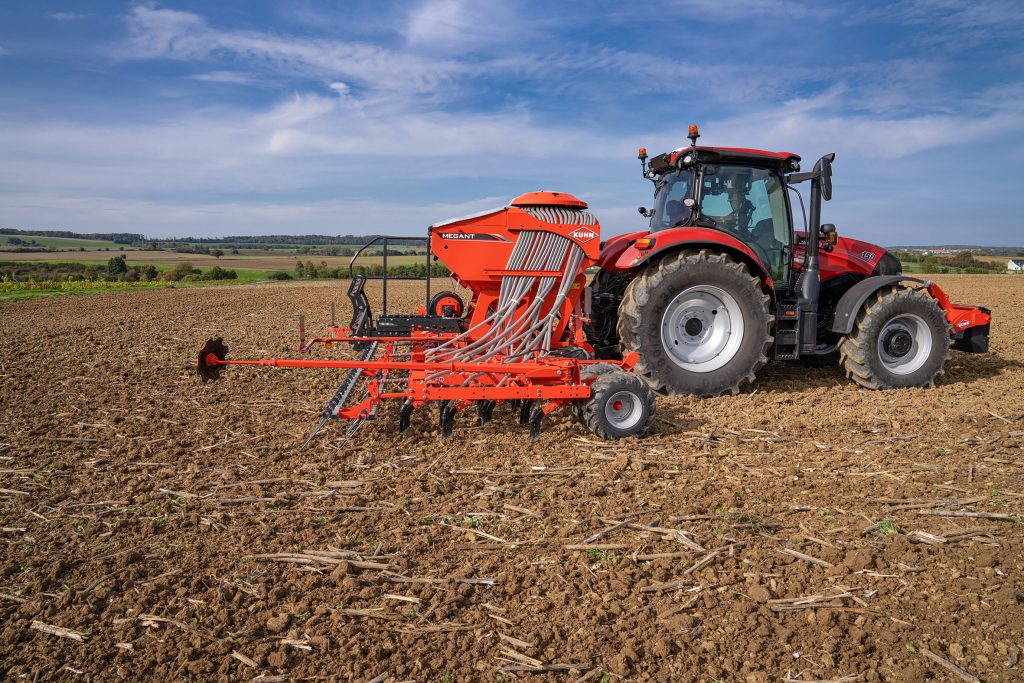 The improved hopper features a shut off door enabling operators to isolate the two compartments. This makes it possible to adjust the metering unit when the hopper is full and helps to prevent seed settling in the metering unit when the Megant is in transit.
The Megant has been fitted with KUHN's VISTAFLOW valves which can be configured and controlled from the terminal. This enables operators to program the flow of seed with the option to save settings for future use. VISTAFLOW also records tramlining configurations such as the working width and wheel track to enable more accurate use of sprayers and fertiliser spreaders which will help to reduce input costs.
The Megant 602R is available to order in the UK with RRP's starting at £42,760.