WHEN ADOPTING DIRECT DRILLING, VERSATILITY IS KEY

by Simon Clarke, Technical and Sales Manager for Simtech Aitchison
It is probably true to say that no other make of direct drill is working over such a wide range of agricultural environments as the Simtech T-Sem drill. Vineyards, walnut groves, upland and lowland pastures, the often arid and rocky conditions of places such as Corsica and the arable areas of most Western European countries, are just a few examples of the diverse range of uses encountered by T-Sem drills. They also have a heritage stretching back further than most. But with all this diversity, it is quite surprising to realise that, with the exception of some design tweaks, the same basic principal of operation has remained unchanged.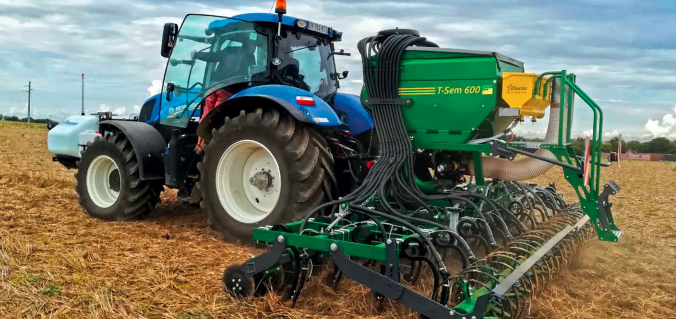 The unique T-Slot coulter creates a perfect environment for seed to germinate and develop. At only 10mm wide at its leading edge it is designed to cause as little surface disturbance as possible. Preceded by a vertical cutting disc, that creates a path through surface trash, the inverted T-slot coulter ensures that the seed is always placed on a firm, but importantly un-compacted base, with the vibrating tine creating the tilth to cover it. In soil held together with a large amount of root material the T-slot coulter creates a void in the soil, which is like a mini greenhouse, maintaining humidity to enhance the speed of germination, but at the same time allowing sunlight to penetrate through the partially open slot. This scientifically-proven feature allows small seeds to be placed deeper than would normally be viable into an environment which is much less likely to result in poor germination or seedlings drying out. Observers of the T-Sem say, "there is nothing to close the slot", but in many conditions this is strength not a weakness, because to do so would be to place the seed too deeply to germinate.
Now with the current wide adoption of cover crops the T-Sem really comes into its own. Summer drilling, directly behind the combine is to say the least, challenging. Often quite hard ground conditions and large amounts of surface trash means that disc drills will struggle. If they can penetrate the soil, there is still the problem of "hair-pinning" the trash, which limits seed to soil contact and also rapidly dries out the slot. The power of the 30mm square double coil tine, means that you can place the seed deep enough to find moisture and give them the time needed to put their first roots down.
The other less obvious reason for investing in a T-Sem is that you are buying into the vast amount of experience that Simtech staff have accumulated through working with farmers across Europe for the past 2 decades. In the particular case of cover crops, the much earlier adoption of this practise in France has given us a head start in guiding our customers in the UK through this quite difficult, but in our view essential part of Conservation Agriculture.
So this is the strength of the Simtech brand. A product that works across such a wide range of conditions, which can cope with the extremes of climate and soil such as ours, must surely be a worthy of consideration.