It's called a fools spring for a reason….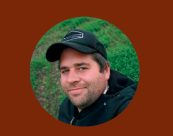 The dry winter has meant that we have been able to get the first round of fertilizer out onto cereal crops this year nice and early. The wheats and barleys are looking a picture and are still tillering out nicely. The disease pressure looks low so far apart from a few patches here and there. We have a small amount of herbicide to apply to the earlier drilled wheat but in general the blackgrass situation looks good compared to a year ago. I think this is due to the ability to direct drill late last autumn. The warm temperature at the end of February has pushed the crops on nicely and brought soil temperatures up early this year. We have drilled a little bit of land for a few customers who are on cleaner ground than we are, but I am yet to start our own. I've always believed that the main reason we use spring crops is to help with weed control. If we go drilling early in the spring it can undo the benefits of spring drilling on heavy soils. The old fellas call it a fools spring for a reason round here.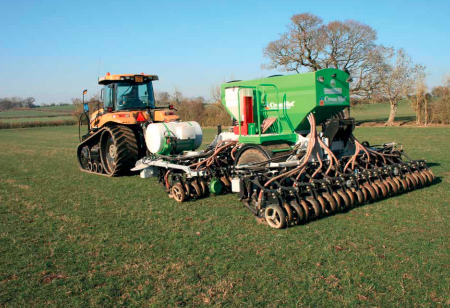 We have had to right off 80 acres of winter beans due to crows ravaging the crop as it emerged in late November. It was drilled into a grass ley and went in beautifully. I think the crows may have been eating grubs and worms out of the sprayed off pasture before we drilled and as the beans came through they had a go at crow Veganuary and moved from grubs too beans. A few fields away we had beans established under a cover crop which hasn't been touched by the crafty corvid invaders. It may become our policy to use cover crops in front of beans in the future. We are also trialling a few ways to make better use of our fertilizers. I'm using some CAN this year on the heavier land after reading an article in the previous edition of Direct Driller about calcium requirement. Our heavy ground doesn't have a large amount of calcium in it and we have probably neglected the calcium requirement for crops in recent years. We also found that it was a considerably cheaper nitrogen supply than purchasing straight AN which was a nice bonus.. 
On top of this I have put in a few trials using humic acid and fulvic acid. The humic acid has been used in conjunction with digestate on our grass leys. I will also try some in the spring crops this year. The idea of this is to improve the cation exchange capacity in the soil to prevent wastage of nutrients. I'm told it will also help to break clay down and make it more friable, help retain moisture and feed microbial life. The fulvic acid will be added to each pass of liquid fertilizer. The hope is that using the two together we will make more efficient use of our fertilizers. The products that I am trialling are from Susan Wilson at Aphaeas Agriculture, I'll keep you all posted how the trials go. I know a lot of farmers have mixed feeling about using digestates on land.
We have decided to use it primarily on grassland at low dose rates (20cu/ ha). From the research I have seen this doesn't have a measurable effect on the worm populations and microbial life in the soil. Hopefully adding in the humic acid may even help encourage the soil life. I believe that grassland has a better ability to recover from applications of digestate compared to arable soils. Bio stimulants and foliar feeding a crop are also on our radar. We used some last year with good success and will be using a lot more this year. The product we have used is called 'universal bio' from Yara and contains essential nutrients (some chelated) and a seaweed extract. It is a great foliar feed and has shown promising results in trials. We certainly saw a benefit from it in the drought last year. We will add a small amount to every fungicide pass this year. 
Some of you may have read that we have been composting our manure from our beef herd. I am comparing the composted manure against manure straight out of our sheds. The parts of the fields that have had the composted manure are currently looking like they have tillered out better and are a slight shade greener when compared to the un-composted manure areas. It will be interesting to find out if this is purely visual or will have an impact on yield at harvest time. Things are looking good for our first year fully in no-till.