SPRING HAS BEEN AND GONE ??

Early drilling has been going on thanks to the unseasonably warm weather, winter crops have not really stopped growing and by the look of some local overwintered, cultivated and blackgrass ladened ground, the green hue says that the Blackgrass has not been checked either. There is no doubt that low disturbance drilling into stale seed beds is a useful tool in the fight against blackgrass, as well as delaying drilling for as long as possible in backend, the photo below shows a Ma/Ag drill sowing spring beans (Spring 2018) and it's quite easy to see that the marker disc is disturbing far more ground than the drills disc coulters, this machine is now working on auto steer, but it shows very clearly the difference.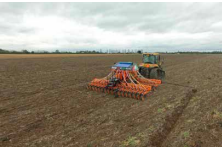 As with most low disturbance drills, speed also makes a big difference to the amount of soil disturbed, but there is the question of productivity to keep in mind, in order to increase working speed and output but minimise disturbance, the Ma/Ag drill can now be fitted with a press wheel which runs alongside the opening disc which allows faster working speeds while keeping disturbance to a minimum, especially in lighter or loose worked soils.
Add to this the Ma/Ag wide concave rear press wheel which also serves as seed depth control for each coulter, the drills 250kg coulter pressure which allows the drill to work in even the hardest soil conditions, the weight transfer from disc to press wheel gives a firming to the drilled ground and excellent seed to soil contact for quick germination, minimised moisture loss and reduced slug activity.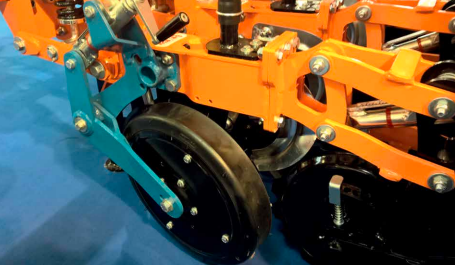 Another first, last autumn we experimented drilling stubble turnips direct into stubble, as the local farmers attempts 2 weeks earlier in the next door field had been difficult and concerns about moisture loss were severe. Now, said turnips are being eaten, the stubble turnips direct drilled are noticeably larger than those conventionally drilled 2 weeks earlier, less moisture loss, that's our conclusion.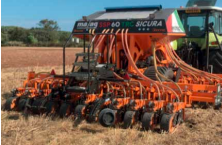 Direct drilled stubble turnips yield better than those conventionally drill 2 weeks earlier in next door field, is moisture retention the key?
Photos below taken on the same day as direct drilled crop emerged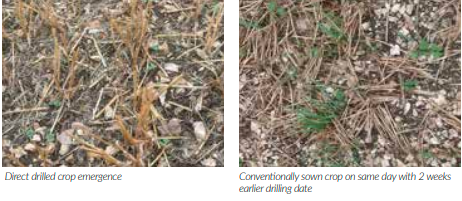 For more information, contact : Ryetec, 01944 728186