CROSS SLOT NEWS

The New Zealand parent company, Cross Slot IP Ltd, is aware of continuing conjecture in the UK marketplace about the future of Cross Slot®; the only internationally recognized, patented, and proven low soil disturbance notillage technology available worldwide and represented in the UK by Primewest Limited. We are also aware of loose talk in the marketplace about Novag seed drills having authority to use the patented Cross Slot technology. Not so. Nor is it true that Novag has ever been Cross Slot's authorised agent in any country of the world. Litigation to protect the Cross Slot patents is continuing in France in which Cross Slot is seeking substantial damages. But let there be no mistake. Things have changed significantly and rapidly with the New Zealand business, which has now transferred all of its trading to Cross Slot IP Limited; the company that has owned the IP from the outset.
We have focused on rationalizing supply and reducing the costs of manufactured openers and frames for drills and toolbars, by outsourcing this work to quality engineering companies in several countries that can offer a reliable supply of components to our high quality standards, and at internationally competitive prices. We have recently appointed a new licensee for the American continent. This licensee is already manufacturing its own machines and we have just shipped out the largest single order of openers ever supplied from New Zealand to that licensee, which has rights to about half of the world's total no-tillage market.
This is the beginning of much bigger things for Cross Slot technologies. A separate and dedicated replacementparts operation (Cross Slot Untill Limited) has also been established to co-ordinate and manage the global sourcing and supply of parts to Cross Slot licensees, distributors, and clients. Cross Slot is also well advanced with its plans to establish a European sales, marketing, and service operation that will outsource openers and frames at competitive prices to other machinery suppliers. Cross Slot Europe Limited is to offer regional licensee opportunities and country distribution rights, and is seeking expressions of interest from parties who would like to become part of the new global Cross Slot team.
Two 10m drills manufactured in Ukraine and fitted with Cross Slot openers, were recently supplied to Russia and following a recent no-tillage conference in Kiev together with the display of a machine at Rostov-on-Don in Russia, there has been a heightened interest in Cross Slot technology from large scale farmers operating in Central and Eastern Europe. A new licensee has been appointed in New Zealand and a separate licensee is in the process of being appointed in Australia. Like all other regions, future supplies of Cross Slot machines for these countries will focus on costcompetitiveness and local client support. Primewest's efforts in UK have been the backbone of Cross Slot availability for many years and have earned Cross Slot technology recognition as the "best in the business". Some see it as equivalent to the "Rolls Royce" amongst seed drills. But our aim is to re-position it as the "BMW or Range Rover" of no-tillage drill technologies.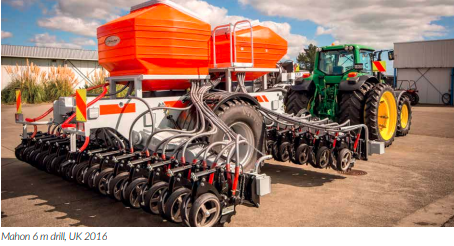 This involves establishing Cross Slot UK Limited as a standalone entity to supply machines and improve its customer support services. In short, we intend to silence the critics who have been hoping to see the eventual demise of Cross Slot altogether. Dr John Baker (baker@crossslot.com) will be speaking at Groundswell 2019, and Cross Slot will be demonstrating the technology's superior field performance in the demonstration field, which we understand will have 10 participants. So come and see for yourself if you are in the market for a new seed drill. Further announcements can be expected with regard to Cross Slot UK Limited, its personnel and plans for the future. 
Meantime, enquiries about prices and delivery of machines can be directed to Primewest, or Mr Chris Hook, the CEOdesignate of Cross Slot Europe (hook@ crossslot.com).