As based on information found on Agricology (www.agricology.co.uk)
Richard Smith, farm manager of Daylesford Organic in Gloucestershire, is a regular contributor to a series of video
blogs produced by Agricology. One topic that he favours for the organic system is growing sainfoin as a forage crop.
In this article he reveals some of his experiences of growing and managing sainfoin on the farm: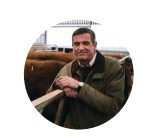 At Daylesford, we've grown a variety of crops over the years but the one that has consistently come out on top is sainfoin, due to it being a highly nutritious (palatable silage) hay crop or grazing crop for livestock. It was grown widely throughout the Cotswolds a hundred years ago; mainly to feed the heavy horses that worked the land (25% of crops grown 100 years ago were to feed working animals such as horses). Sainfoin is favoured because of its high yielding and drought resilient qualities compared to other crops. We have found the crop to easily yield 15 tonnes per acre, with a potential protein content of around 22% and a metabolizable energy (ME) of 12. Other crops, such as rye grass would only yield 8 – 10 tonners per acre, with about 14- 15% protein content and an ME of 10.
We operate a rotational grazing system, moving the cattle morning and night to make the most of the available forage. Cows are ruminants and therefore require high fibre diets, the vast majority of which, on our farm, is made up of grass; either fresh or conserved. Thirteen years ago we started a breeding programme to take our herd from a high yielding, high input Holstein herd to a much more sustainable low-input British Friesian cow.

Our dairy now stocks around 120 pedigree British Friesians and we have a stress-free herd that's eating a minimum amount of bought in protein; the vast majority of their diet is made up of sainfoin grown on the farm. Similarly, our flock of commercial Lleyn sheep are fed on a sainfoin and red cloverbased diet with a dry matter content of about 70%. Again, the sheep find it very palatable and easily digestible. I can't underestimate the importance of the quality of the forage we produce in the summer.
Establishing sainfoin
Establishing sainfoin is the most challenging part of the cultivation process; its success largely depends on soil type and seasonal conditions. It adapts best to well-drained soils with a high pH. At Daylesford, the soil of one of the fields we grow sainfoin in, being typical Cotswold brash, has quite a high incidence of limestone so therefore its pH of 7 or above is well suited.
In favourable spring growing conditions (the soil being warmer in midMay, making it a prime time to sow), a crop can establish itself reasonably well in the first year, but one of the reasons it is less favoured by livestock farmers is that it is not until the second year that the crop really takes off. Once sainfoin is established however, I would expect to take about 1200 tonnes of fresh weight silage from an 80-acre field in our organic system.
We plough at about 7 inches deep then drill in May. The sainfoin is drilled at about 1-1.5 inches deep using a combi drill of 32 rows over 4 metres. We then roll the field with a big set of heavy Cambridge rolls. It's imperative that you get it rolled in really tightly in order to get some compaction round your seed. This will help retain the moisture in the soil and give the seed the best chance of germination, as well as breaking down those crusty soil particles on the top.
Sainfoin is quite an open grown plant so you want to try and suppress as many weeds as you can. When it is drilled, we overseed the field with some native grasses. Putting in a little bit of traditional grass seed such as cocksfoot and timothy as an oversow really helps to suppress the weeds; as the grass emerges it creates a blanket on top of the soil and puts the ground into darkness. Once the over-sowing is complete, the field is rolled again.
After six weeks, the sainfoin should be well established and will be about 6 inches in height. It is a clean crop to grow -it will take off and smother all the weeds out. It is also exceptionally resilient to drought due to having such a deep taproot; so much so infact that it can get to the point where you don't really need rain as the root can penetrate so far down into the subsoil. Even in the very hot summer of 2018, we found the sainfoin on the farm wasn't really affected by the drought.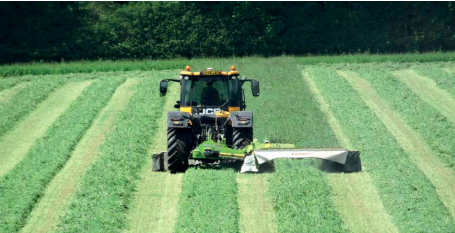 Mowing and harvesting sainfoin
Sainfoin is a crown grown plant so must not be mown too low as this can kill the plant. We mow it quite high, allowing it to recover relatively quickly and get away. It has quite a fragile leaf and if it is left too long to dry and then handled with heavy machinery, you are likely to knock off a lot of that leaf where much of the goodness is, so it is important to try and prevent this. I often see a sea of bees on the sainfoin, it's a great nectar crop.
The pink flowers are highly beneficial to insect pollinators so I tend to leave a strip of the crop along the top edge of the field located near to some of the beehives at Daylesford, which will provide forage for the bees and other insects. Mowing can of course be delayed in the case of wet weather, but in perfect conditions we would normally cut at about mid-June, whilst the crop is in mid-flower. We can easily get a second cut in September or we can leave it to grow and harvest our own seed from late September to mid-October.
It combines (harvests) very easily and a good crop will give you about 150kg an acre of really good seed. At Daylesford, as soon as the sainfoin has been cut, two rows are put into one which are then ready to be picked up by the forage wagon (harvesters) the next day. The forage boxes are very efficient at doing this, we can clear about 100 acres per day. After leaving it to wilt for 24 hours, we hopefully have a dry matter of about 70% when it is put into the silage pit later on that day. Down in the silage pit, the sainfoin is treated the same as an ordinary grass silage crop. The walls of the pit are lined with plastic sheeting and the forage box chops the sainfoin and then unloads it. One of the key ways to make great silage in a pit is to roll it in very tightly (this is very important in order to get as much air out of it as you can), aiming to fill the entire pit.
Grazing sainfoin
We allow the sainfoin crop to recover and then graze lambs on it which perform extremely well – I have had lambs that gain up to 350g liveweight daily. It is rocket fuel for fattening ruminant stomachs and has the added benefit of acting as a natural anthelmintic (wormer) in sheep and cattle.
Nutritional analysis of sainfoin silage
The quality of the feed value we make in the spring and early summer is of ultimate importance for our stock in the winter. The more time we take in ensuring the quality of the forage conserved pays dividends in the winter. In a field with a five-year established sainfoin crop in flower (which will be in ley for eight years) I would hope to achieve 37.5 tonnes of fresh weight silage per hectare. In our 80-acre field, the crop of sainfoin and native grasses will similarly yield about 15 tonnes to the acre, or 37.5 to the hectare.
However, 2018 was the driest year for 40 years and was a real test of drought resistance of the sainfoin crop. Grass yields were down, as were cereal crops. We carried out tests on the protein content of the sainfoin silage, and analysed the juvenile crop of sainfoin each week up until mowing. The first cut was on May 14th (earlier than normal) and during the three weeks building up to silaging, we analysed the protein content every week and found that it dropped by 2% at a time (at the end of April it was 22% protein with an ME of 11).
Analysis of the first cut silage revealed 17% protein with an ME of 10.5-11. When we took the second cut in July it had dropped to 14% protein with an ME of 10-10.5. Regarding volume and quantity, we took around 9-10 tonnes an acre fresh weight silage, and two subsequent cuts yielded about 8 tonnes fresh weight per acre (20 to the hectare). This was down a little probably because of the drought (and the grasses within the crop that suffered because of it) but of all the crops we grow, sainfoin managed to hang on better than any other due to its deep taproot. It is worth noting that, in my experience, regardless of whether a juvenile crop or a more mature crop is harvested, the palatability and the performance of the animals eating it have been very similar.
Visit www.agricology.co.uk to view the video blogs and other technical information on growing and managing sainfoin. Agricology is an independent collaboration of over 20 of the UK's leading farming organisations (see our partners). Each month we profile a farmer using agroecology to enhance their farming system, and have a wide range of farmer videos on our YouTube page. Blogs and research hubs provide a space for researchers to share their learnings with the farming community. Our growing library hosts over 350 resources on different agroecological practices (such as soil monitoring, companion cropping and herbal leys). Subscribe to the newsletter or follow us on social media @agricology to share your questions and experiences with the Agricology community