Written by Natallia Gulbis, Technical and Arable Farming Lead at PlantWorks Ltd
According to the European Biostimulants Industry Council, a biostimulant is a material that contains substances and/or micro-organisms whose function, when applied to plants or the rhizosphere, is to stimulate natural processes to enhance/ benefit nutrient uptake, nutrient efficiency, tolerance to environmental stress and crop quality. Within the increasing number of companies, both manufacturers and suppliers, offering microbial based biostimulants into UK agriculture PlantWorks Ltd, based at the Kent Science Park and NIAB EMR, has one of the longest scientific programmes that has sought to refine consortia of beneficial bacteria and Mycorrhizal fungi and trail them across the UK. Here Natallia Gulbis, Technical and Arable Farming Lead at PlantWorks Ltd talks about the last two years' of trials.
Founded in 2000, as a spin out company from the university of Kent, we are the UK's only mass producer of Mycorrhizal fungi (MF) and a producer of Plant Growth Promoting Rhizobacteria (PGPR) since 2014. PlantWorks has built a reputation as a technology-led company with established markets in many areas of horticulture. In 2014 the company commenced the development of a liquid based PGPR biofertilizer to complement the Mycorrhizal fungi range for the agricultural market. We are now five years through this journey and have developed a range of PGPR based products for both cereal and vegetable crops. During this time, we have continually developed the products to optimise performance and user experience including formulating the products to best suit the crop, increasing our understanding about application methods of the technology and how different rotations effect their performance.
One of the major milestones to come from our research to date has been to confirm that more, in terms of diversity of strains of different bacteria, is not always better, in fact the converse can be true
A significant series of experiments showed that a crop specific tuned consortium of bacteria performed best in terms of yield and nitrogen use efficiency. This research underpinned the formulation and launch of the SMART ROTATION 3 range of bio-fertilisers that have been trialled extensively in over 70 trials in the UK over the past 2 years, much of this work undertaken in collaboration with the UK's major agronomy companies and research institutes serving applied agriculture.
The body of data collected from these trials now enables us to apply rigorous statistical methods to determine the value-added effects of applying SMART ROTATIONS 3 in your field. Mixed linear modelling is a statistical method that estimates mean values across large datasets taking into account fixed (e.g. treatment with PGPR) and random (e.g farm) variables. Using this method across 534 data points collected over 2 years of trials across 3 arable crops grown on 12 different farms across the country the model has shown that application of PGPR gives a 10.5% increase in ear count and a 5.6% increase in yield compared to untreated controls (figure 1). When broken down by crop yield increases are estimated to be 8%, 7.5% and 2.9% for barley, oat and wheat respectively.
* NB The estimated means displayed in these graphs are a combination of oat, wheat and barley data combined and therefore do not reflect the absolute yield you would expect for any one of these crops. The figures quoted for 'ear count' and 'yield' are baseline figures with all other factors, other than the addition of SR3 (plant growth promoting rhizobacteria), removed and therefore these figures do not represent actual ear counts and yields
In 2020 we will focus on research that will seek to improve the application of the technology with a particular focus on increasing the bio-fertilisers ability to enter the root zone efficiently and consistently in all weathers. Where previous work had sought to challenge the technology across many crop and soil types this work will focus on two 'monitor' farms in Kent and Cambridgeshire and will enable us to offer further knowledge on how best to use this exciting technology.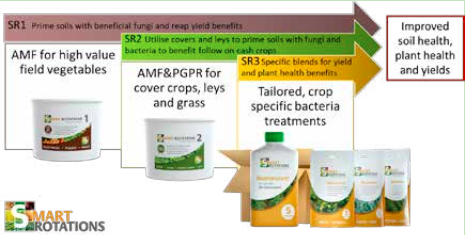 The liquid bacteria products are sold under the SMART ROTATION 3 brand name and are supplied as liquid cultures and sprayed to ground after drilling and for winter crops applied again in Spring. Currently the products are sold in units sufficient to treat 5 hectares and are simply added to the spray tank, set for course droplets, with a recommendation of 200 litres of water applied per hectare. Products are tuned and available for wheat, oats, barley, OSR, sugar beet, potatoes & carrots and leek & onions.
In an regulatory environment where the use of chemicals, whether they be fertilisers or pesticides, are being restrained, as we rightly focus on the long term health of our soils, the use of biofertilisers are increasingly seen by many as a technology that will be adopted as common practice in the years ahead. There is a considerable body of research being undertaken in the UK throughout the university sector on the role of microbes in enhancing crop efficiency and we are one of a number of pioneering companies that are 'tuning' the technology for real life application.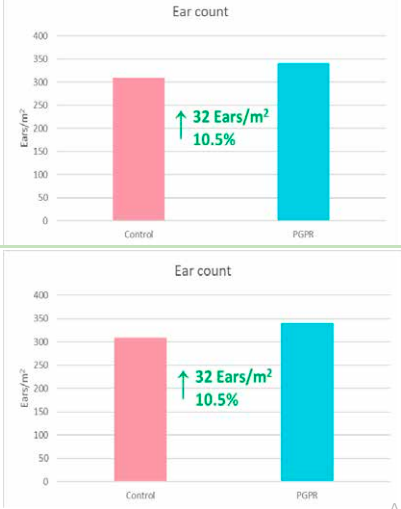 About PlantWorks
PlantWorks is a leading agricultural and horticultural research firm that specialises in sustainable, natural plant growth solutions. Based at the Kent Science Park and NIAB EMR, PlantWorks has a core science team embracing the disciplines of soil biology, bacteriology and plant science. PlantWorks is one of the largest manufactruers of mycorrhizal fungi in Europe and produces five well characterised strains within its controlled growing facilities split between East Malling Research and Kent Science Park. PlantWorks maintains a large collection of Plant Growth Promoting Rhizobacteria (PGPR) that it routinely cultures and formulates in support of farming trials and new product offerings.