In the midst of difficulty lives opportunity!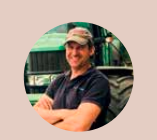 Well, as I write this from my room at The Royal Agricultural University at Cirencester on the 25th February the rain is currently lashing against my window and its 3 degrees outside! Hardly the weather for spring drilling, applying fertiliser to backward crops and even clearing up grubbed orchards waiting to be burnt! Can you remember a 5 month period of almost constant wet weather? Fields have hardly had the opportunity to start drying out before the next deluge or storm arrives. It really is a very trying time for farmers and we are far from being in the worst situation. Many farmers up and down the country have seen huge swathes of land turn to lakes. Quite how and when these will have healthy crops growing in them is anyone's guess!
At times like these its very easy to get disheartened and lose hope. My thoughts are with those who don't have the option of leaving fields fallow or planting a cover crop in late spring to help the soil heal and restructure. Where rents have to be paid and a crop needs to be grown at a profit just too cover costs this is looking like a tough year. I'm currently on the first week of the Institute of Agricultural Management Leadership Programme. This takes place over 3 weeks with a week here at Cirencester, a week in Brussels in late March and a final week in London in late April. We are a group of 13 from across the agricultural sector and I'm looking forward to what happens over the coming months. Whilst on the subject of personal development I would like to bring your attention to a couple of things that I've done over the past ten years that have really helped shape me and given me confidence and ability to make changes within by business.
In 2008 I spent three weeks attending the Worshipful Company of Farmers Advanced Business Management Course. There were 20 on that course and many of us still meet regularly for a reunion and to catch up as friends. I can highly recommend the course which is run every year here at Cirencester RAU during November.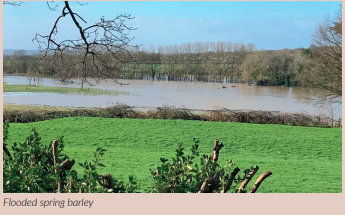 Then in 2013 I was successful in applying for a Nuffield Scholarship which saw me spend time in North and South America, Australia, New Zealand and UK.
If you fancy a challenge or some personal development these courses are definitely worth attending, not just for the course content, but for the experiences, travelling and the friends and relationships that develop.
Although the past 5 months have been largely a writeoff weather wise there have been opportunities that have come along which we've been able to take advantage of. The first of these is to take on extra land from this coming autumn. With a local farmer retiring at the completion of harvest 2020, we have been able to take on some extra acres locally. We are also expanding our contract drilling acreage with a few more farmers locally who are looking to use our low disturbance system on their farms. I can see this part of our business growing significantly over the coming years as smaller landowners and farmers look to those with experience of conservation agriculture, no-till systems and regenerative farming to give assistance by way of land management and contracting services.
Another exciting change is the addition to our team of a new staff member! With the increasing land area, contract drilling area and continued contracting services we have felt that we needed to add to the team which has essentially been Dad and myself on the farm for the past ten years. My wife and mother are also partners in the business with Sarah, my wife, taking care of most of the office work for ours and another business which we run. The new man starts next week and integrating him into the team, teaching him about regenerative agriculture and giving him responsibilities will be both exciting and challenging but I believe the right thing to do. For us it's been the one missing part in our business that will allow us to progress and expand.
We have also been approached recently to host and demonstrate a Novag drill on our farm for the spring/summer period. This will be a 6m model of their T-force machine with the openers set at 10"/250mm spacing. The thinking behind this row width is that if/when we lose glyphosate inter row hoeing or weeding becomes a possibility with RTK steering. It will also give us the option of applying solid starter fertiliser and slug pellets in one pass and I'm confident our current 300hp tractor will pull the extra 4 openers over our current 4.8m 21 opener Primewest model. Just for the record we are very happy with our Primewest machine and the service we have received from them. But times change, machines improve and develop and workloads increase! As I said in my title, there are always opportunities to take advantage of and I'm hoping this gives us scope for more work, contracting and demonstrations. If you are interested in a demonstration in Kent and East Sussex of the Novag machine we will be available for demonstrations at a contracting rate. You are also welcome to come and see it working on our farm and some of the crops we have drilled using this system.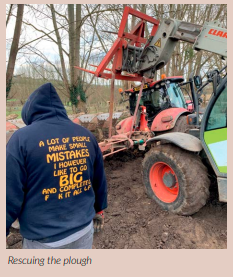 Our local discussion group have had some excellent speakers this season with Clive Bailye, James Thompson from Beeswax Dyson and John Pawsey speaking. There are always opportunities to learn and grow and that's what we've endeavoured to do even if fieldwork progress has been zero! I can see the coming 12-18 months being a testing time for UK agriculture with the fall-out from Brexit, flooded and water-logged fields, and poor financial returns from harvest 2020 with which to invest and finance the coming years. Certainly, our long term no-till land is holding up better than most and where we did establish crops they look to have developed nicely over the wet and mild winter.
I mentioned in one of my articles that we don't work on Sundays and often get a funny look or raised eyebrows when I mention this. For us 6 days on then one day off allows everyone to start back on Monday refreshed and ready to go again. We still get the harvest in and are just as forward with planting as anyone else locally. I also have a wife and 4 children and am on the leadership team of a large church locally. Spending time off farm is, for me, vitally important to put things into perspective and talk to non-farmers, family and friends. And with that I'd like to finish by encouraging you to look out for others around you particularly in the farming sector who might well be struggling over the coming months. Farmers who feel there is no hope or that would like to change but don't have the opportunities, finance or abilities to do so may be those that you can befriend, help and get alongside.
As the tragic passing of Caroline Flack, at just 40 years of age, has reminded us, life can be cruel and heartless. Please think about the effect of what you write and what you say. "In a world where you can be anything, be kind" Thanks for reading this far! We all wish for a rapid resolution to the Covid virus which has upended so may lives and businesses, and best wishes to all.