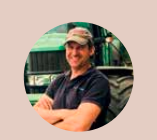 Back to Basics
In 2013 I was awarded a Nuffield Scholarship to look at the "Long term benefits of No-Till Farming". My appeal to the Nuffield selection panel was that I wanted to visit farmers around the world who had been no-till farming for over 20 years and try to bring back some common threads and ideas which could be helpful to UK growers in our climate and on our soils. (As an aside, my report title was changed to "Moving from Sustainable to Regenerative Agriculture using No-Till Systems". It can be found on the Nuffield Farming website if you fancy having a look!)
Whilst thinking of what to write for this, my 6th article for Direct Driller, my mind was cast back to the 4 main recommendations of that report.
These were…
1. Use a low disturbance no-till drill
2. Retain residues on fields/chop all your straw. (Straw for muck deals are still good!)
3. Use diverse rotations
4. Grow cover and catch crops where possible
Now there's obviously a lot more to add to that short list, and even in the 5 years since my report was published there have been those that have improved on this. It's very easy to think that things move on and are improved with time. However with the difficulties surrounding this autumn's weather and planting conditions I've come back to these 4 principles with renewed belief and optimism. I can honestly say that if it were not for no-till and cover crops our farm would look very different to what it does today, the 24th November.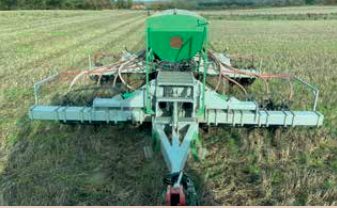 Stubbles were left as long as possible behind the combine and in the case of OSR and most wheat stubbles a cover crop was planted which would in most cases has established reasonably well. Even the stubbles where no cover or catch crop has been planted with the drill we still have the volunteers and some weeds seeds which have given us a green carpet on which to drive and plant crops. I'm not claiming that we've had particularly horrendous weather but even with heavy rainfall every week since the 23rd September we have been able to travel on almost all our land after 3 dry days. Even now with 40% of the farm still to plant I'm fairly confident that we can get the remaining Beans and Wheat in the ground if we get a dry spell. (Don't laugh!)
Field comparison shows no-till benefits
The benefits that come from what is now 7 seasons of low disturbance no-till are huge. Being able to travel on undulating fields with a 300hp tractor and 4.8m drill given the weather we've had is quite remarkable when in adjacent fields, that have been ploughed, the water is glistening on the surface and even a quad bike makes a mess! The only visual evidence of our visit to the field is the rather satisfying stripes in the stubble or cover crop left by the drill. We'd be lost without GPS!
The frustration and lack of patience this autumn can been seen by all those farmers who have been looking at social media recently, with horrendous pictures of tractors, drills and root harvesting equipment stuck in the mud. It's a truly heart breaking scene particularly when you think how much time, money and effort have gone into producing that crop. The temptation to try and get some more planted has seen us plant in less that ideal conditions and into the night on more than one occasion. The novelty of unblocking 42 press wheels on the drill is now wearing thin. We just hope that those seeds planted into what is a well structured soil will grow away and the damage to the soil is something we can rectify!
With that in mind we made a purchase on the farm this autumn that some might feel is unnecessary! (But not quite as bad as buying a plough!). We had bought (at a farm sale last year) a 3m subsoiler and fitted a seeder with the plan being that we would plant our Oilseed Rape with it on a rotational basis! With OSR in the rotation about every 6 years this was a decision we were willing to take in order to get the crop off to the best start. Because of the wet weather in August we decided to subsoil the ground destined for OSR just after the winter barley was harvested so that drilling could take place in a more timely manner in late August.
This worked to an extent but the unevenness of the subsoiling finish was not to our liking. When the opportunity arose to part exchange this 3m machine for a 4m folding low disturbance subsoiler we jumped quickly, and whilst in an ideal world I'd like to farm with just the crossslot drill and a set of Cambridge rolls, there are times when to rectify previous problems or start some new ground afresh a pass of a very low disturbance tine is required. I can also see that we might be in demand on neighbouring farms next year to rectify some of the damage to soil structure that has taken place?!
In the past week the cover crops that were destined for spring barley have seen a flock of sheep move in. They will move round about 50 acres each week and also have some permanent pasture hay fields to graze. I'm still undecided as to whether this is the right thing to do. I have told the contract grazing shepherd that if conditions allow I'll keep planting wheat into these cover crops. I just feel spring barley will be overdone and a very average second wheat crop could be more precious and marketable come this time next year.

I really didn't want to focus on the weather with my offering this issue! With the weeks of sitting around, there has been the opportunity of thinking "what would we have done differently?" There were one or two nights around the 10th October that I could have gone longer into the night but other that that there's very little I would change. One thing we have discovered is that it's good to talk and a number of local farmers have met up a few times recently for breakfast. It's always good to know that you're in the same boat! (Quite literally for some of us!)
So what's next?
It's very difficult to relax and pack away for the winter when there still even the faintest possibility of planting more before Christmas, but one thing I can look forward to next year is a place on the Institute of Agricultural Management – Leadership Course. I'm looking forward to some personal development out of the normal farm environment and making new friends in the process.