FASTER, STRONGER AND MORE COSTEFFECTIVE – NO-TILL REAPS REWARDS FOR BEDFORDSHIRE FARM

Justin Bennion, Farmer at C H Bennion & Sons in Bedfordshire, believes that the industry is ultimately moving in the direction of no-till farming. To that end, he has invested accordingly. In adopting Weaving Machinery's LD TopSoiler, Justin has discovered that the move into no-till farming can be affordable and efficient, offering cost reductions, greater control and, ultimately, excellent results while promoting greater soil health.
"The results have been excellent," says Justin Bennion. "We use the Top-Soiler to cover about 50 acres a day. The durability is superb – we've gone over 750 acres just on the first set of legs. By getting a leg into the ground to lift up surface compaction, it reduces the number of passes over the land, saving on time and fuel."
Mr Bennion has a 4 metre, 10 leg LD Top-Soiler fitted with a DD Packer and 7-outlet seeder. This specification makes the LD Top-Soiler a dual-purpose tool perfectly suited for lifting the soils and removing compaction from stubbles as well as for strong OSR establishment.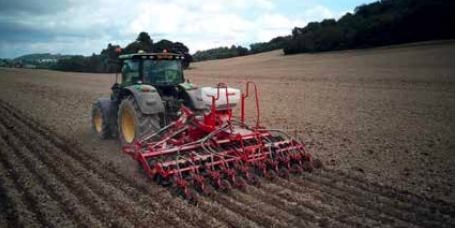 Justin identified OSR as a crop that particularly benefits from the minimal soil disturbance granted by the LD Top-Soiler. "With OSR, it's important to get the nutrients applied and the plant growing as fast as possible," he says. "An important part of that is conserving soil moisture. The Top-Soiler makes it possible to apply fertiliser without disruption or removing any of that moisture, getting the crop off to the best start possible."
Advocates for no-till farming praise the approach as suitable for all soil types and conditions, while also cutting costs and – crucially – preventing soil erosion and improving organic matter and worm numbers.
"If you add some kind of direct drill, I think that's all you really need for most situations," adds Justin. "Compared to what's on the market, it's excellent value for money and a strong investment considering the direction farming is going in." 
Weaving Machinery's LD TopSoiler is a market leader in ultra-low disturbance farming. At 15mm wide, the subsoiling legs are compact and don't offer a boiling effect on the soil nor stir up any dormant weed seeds, whilst still causing the necessary shattering and heaving effect to drive air into the soil.
"Soil health is important. It's taken a while to gain momentum but reducing soil compaction and increasing organic worm matter is now seen as a much bigger issue. As I said, it's not just a long-term investment. The machines that let you practice no-till easily while cutting costs and getting strong crop establishment are out on the market and affordable. This isn't just a good investment, but the right machine at the right time for my setup."
The Weaving LD Top-Soiler was designed to allow minimal input by reducing costs, fuel usage and wear on parts, whilst providing maximum output. The end result? Strong yields while promoting healthy soil. The mounted Weaving LD TopSoiler is constructed from high grade steel with a heavy-duty frame, carbide faced loosening legs and lifting wings, and shear bolt leg protection. Working depths are between 0" – 9" (0mm – 228mm) with pin hole depth adjustment in 1" increments, making it quick and easy to adjust depth – and giving the user greater control.
Weaving Machinery's LD Top-Soiler is designed to reduce soil compaction in no-till systems but works within conventional cultivation regimes when required.
For more on Weaving Machinery's newest drills and other robust and reasonably priced farm machinery, visit https://www.weavingmachinery. net