The likely ban on glyphosate and other chemicals has steered this German manufacturer to look at some methods used by organic growers – and then improve on them
At this year's Agritechnica Michael Horsch, farmer and founder of the well-known German farm machinery company, introduced the concept of a dual or hybrid approach to crop management, using a combination of the best and most effective parts of biological inputs together with the best and most necessary chemicals. "For the past five years I have learned a great deal from the best organic farmers, how they manage arable and root crops, and how they are building humus and soil condition to combat plant disease and threats to their crops," says Mr Horsch.
"Organic farmers have the experience with tillage methods, mechanical weed control and crop rotations which are transferable to farms that are able to use chemicals. In the same way conventional farmers have techniques and methods that are appropriate and highly effective on organic farms." He describes this transfer of knowledge and techniques as "hybrid farming", which combines the benefits of conventional agriculture with the organic, and his company already has cultivation products which are designed to facilitate this cross-over of techniques. The market and production of certified organic produce calls for suitable technology which can benefit farms operating without the use of chemicals. In a similar way knowledge from the conventional can help the organic sector produce better crops.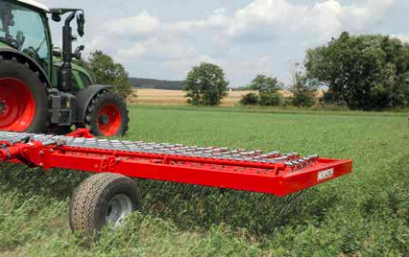 "I was in Brazil not long ago and visited three of the country's largest farms, and it was noticeable that all saw a future using bacteria and enzymes in their crop management and have the intention to use them to completely replace their insecticides and fungicides. These Brazilian farmers already manage some 10,000 hectares of their farms in this way. Among other things they use lactic acid bacteria, which they produce for themselves very cheaply. But it needs a greater number of field passes – at present. Farming with conventional fertilisers but using enzymes and bacteria to control disease, and shallow inter-row cultivations and brushing instead of herbicides may be more vision than reality at present. The direction of farm techniques, not only in Brazil but across the globe, is one which reacts positively to fewer chemicals and a greater use of natural products and mechanical methods.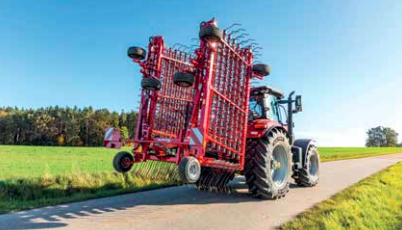 Michael Horsch says "Our goal must be to produce food residue-free" Does he think that chemical pesticides will eventually be totally replaced? His answer is probably not, but bringing the two techniques, which for many years have been opposed to each other's way of farming, has benefits for all. Regarding the important issue of glyphosate, Mr Horsch says that we have to assume it will be banned in Western Europe in the near future. France and Austria are leading the way and there is increasing pressure in Brussels which will eventually lead to a ban on its use in Germany. At the moment we can not convince the Bündnis 90 / Die Grünen party that the continued use of glyphosate still makes sense. But I can imagine that this would be different if they had more political power.
Conventional farmers are having to face up to life without glyphosate, and this means the increase use of soil engaging machinery… which in itself creates a soil health problem as soil disturbance makes it much harder to build humus.
Horsch machinery designed to respect the soil
The company has been working on developing machines that will do this task, and have three different concepts that are out in the field and being used by regular farmers.
1. The hoe, named the Horsch Transformer is an adjustable interrow hoe which can be used with many camera systems.
2. The harrow, the Horsch Cura, has a stepless spring adjustment from 500 to 5000 grams which allows it to be used very aggressively. The importance of a stable construction, non-electronic adjustment, up to 12m working width means it will perform well in all soil conditions.
3. The cultivator, the Horsch Finer works at a dept of 2 – 5 cm and is designed to put weeds on the surface so they dry up. With up to 12m width and light construction it features unique forward turned spring tines that keep working at the optimal angle. "The problem with normal spring tines is that the operating angle is constantly changing and therefore missing the optimal angle of operation. These times solve this problem, allowing consistent quality work and a clean cut on the soil surface."
Future developments for row spacing, and driverless machinery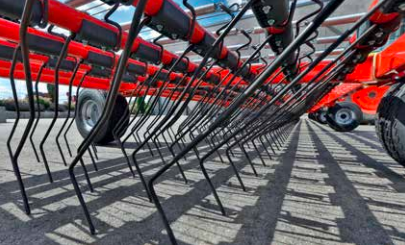 Organic farmers who focus on growing cereal crops find weed control to be increasingly difficult. Inter-row harrowing is one of few answers. Crops with a row spacing of 15cm provide a challenge for operators, and the driving speed has to be slow. Increasing the row width to 25cm allows for speeds up to 15 km/hr. Michael Horsch sees wider rows as becoming popular, both for the harrow and the hoe, and not just on organic farms but also those which have problems of herbicide resistance. The driverless self propelled weeder is very much in Horsch's mind. Working long hours and with light weight, and no product to carry, it is quite plausible to see a small machine cleaning crops. Design of the tines and blades are critical to performance.
Farmers experiences are encouraging
Carl Graf zu Eltz, Gutsverwaltung Wolfring, Germany – Finer 8 SL
The HORSCH Finer 8 SL cultivator was used last spring as well as for stubble and seedbed preparation in summer / autumn. It's first outing was to shallow cut and dry off the cover crop prior to sowing maize, and the cultivator worked very well. The tines can cut flat to a depth of 3 to 4 cm over the entire surface and did two jobs: 1) Cutting off green catch crops, volunteer crops, weeds etc 2) creating a fine-crumbly seedbed. The Finer SL also pulls growth out to the surface where it dries. The Finer 8 was also used to prepare ground for summer sowing. Cultivation on our farm is done with a Terrano FM, and we followed this by using the Finer cultivator to control weeds and create a seedbed. The horizontal action of the machine is cost-effective and reduces moisture loss and humus degradation.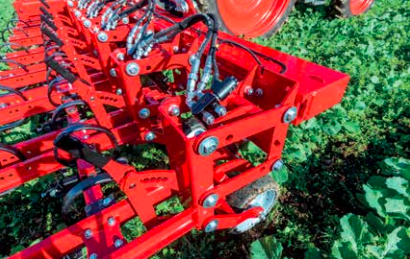 Arina van Schaik and Wil Derks, Magyar Dagra KFT, Hungary -Transformer 12VF
This spring, we used a prototype of the new HORSCH Transformer 12 VF hoe. Besides maize we used it in soybeans and sorghum, and the work covered a total 475 hectares. Our farming goal is to work without herbicides. Hoeing in wet or humid periods where the weeds grow very quickly is usually difficult. We need to be able to use a weather window to best advantage by hoeing quickly and effectively when conditions are dry. We had a good experience with the Transformer 12 VF from the start. It is equipped with 50 cm row spacing, SectionControl for each row and series guide camera. The side shift frame with camera works very well, which allows the ground to be hoed close to the row of plants.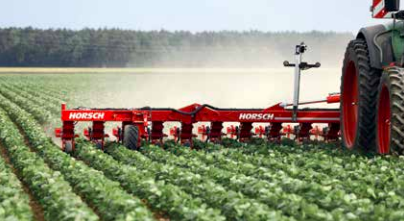 We quickly learned that blade sharpness and a flat angle of attack are essential for an optimal work result. As additional tools, finger picks were used, which allow an intervention in the series and weeds and weeds out of line. When hoeing in soya beans we found it better to hoe when weeds and crop are bigger. The higher crop significantly reduces crop losses and we found the result was a clean crop and the soya yield has averaged 4 t / ha.
Michael Braun, HORSCH Maschinen GmbH, Team Leader Product Marketing – Cura ST
The HORSCH Cura ST weeding harrow is 3-point linkage mounted, with models from 6 to 15 metre working width. The main features of this harrow are the narrow tines which are designed so they can be adjusted to work from very aggressive to passive action. This makes it possible to adjust the machine to closely target the work required. The Cura ST can be set to do gentle, soil tickling work after sowing, and on another occasion do intensive combing of developed weeds. The design of the spring mechanism means the same force is applied to each tine tip. over the entire spring area of the tine. For example, this feature allows it to be used on dams.
The upper springs on the main frame of the Cura ST make transport easy, and the frame is designed to protect the crop and eliminate any blocking with plant material occurring. Setting the contact pressure of the harrow tines is done hydraulically from the tractor cab. Future machines will be offered with tungsten carbide tines to provide an extended service life and reduced maintenance.