A Tale of Two Farms

It's been an "interesting" autumn here! It was always going to happen following the "goldilocks" near perfect summer and autumn of 2018. Mother nature was bound to maintain her average and the rain was going to come sooner or later. For us, that time was harvest. We got all our OSR into store before things turned wet but then, sure enough, we were soon reminded how the grain dryer that didn't run at all through 2018 worked. A brief dry spell saw beans and spring crops harvested dry again. Overall yields were decent but nothing exceptional or to brag in the pub about! The now forgotten dry spell through spring stopped us hitting any record yields. Our crops certainly flattered to deceive; I don't think I have ever seen this farm look so good in July so the rather average numbers we saw over the weighbridge across all crops did feel like a disappointment at the time.
The big change for us in 2019 was the move away from the our 6m John Deere 750a drill to a 12m Horsch Avatar prompted by the loss of a full-time staff member. Our first use of the new drill in anger was establishing cover crops, despite being assured that our exiting 240hp (Fendt 724) would pull such a wide drill I can't help admitting that actually seeing it do so up some of our steeper banks was quite a relief. The extra width on the same horsepower quickly proving value with fuel use now as low as 3l/ha (vs 4l for the 750a) and significant increases in work rates.
This extra establishment capacity made cover crop and OSR drilling a very quick event, 100ha plus a day being achievable without operators putting in silly hours. It had been my plan to establish OSR crops as early as possible but that wet weather mid harvest meant by early September we were already behind where we really needed to be with fieldwork. This latter establishment of both cover crops and OSR have resulted in much smaller rape plants and unimpressive cover crop biomass levels going into winter this year. But given the seemingly relentless pressure of CSFB and my aversion to using insecticides, I'm simply pleased to still have a crop on every acre we drilled.

The multiple drill hoppers in the Avatar created some interesting new opportunities. So, as well as my usual placement of nitrogen with OSR seed (this year with addition of phosphate in the form of DAP), we decided to experiment with placement of prilled lime in the form of Calcifert. As well as some neutralising value from the product I have long felt that Ca as a nutrient is often overlooked even on soils with good Ca content. Availability of this essential nutrient can often limit yield and for a few years now we have made routine tramline broadcast applications to crop in the spring and seen good response.
Various rates of Calcifert were placed with OSR seed, the idea being that the neutralising value of the product might help with acidic breakdown of residue "hair pinned" into the seeding zone at drilling.
However, what quickly became more interesting was the correlation between levels of CSFB attack which were in direct proportion to the Calcifert rate, which lasted through early establishment. Quite why this happened I have no idea. Could it be improved vigour of plants with better nutrition out growing or being less attractive to their attacker? Could there be some physical deterrent property from the calcium? Or could there be something completely different altogether going on? It is certainly something that is potentially very interesting and worthy of further investigation and proper trails. That's for sure!
I think it takes a difficult season to remind us all why we do some of the things we do. Disappointing levels of biomass in later established cover crops remind why getting them in tight behind the combine is so critical. And keeping seed mixtures cheap is prudent. But more than anything else autumn 2019 have reminded me just how much my soil has changed over the last decade. Our ability to drill this autumn has been almost in direct relation to how long that field has been farmed without tillage and with a conservation agriculture mindset. By the beginning of November, we had already received nearly 300mm of rainfall but had 95% of our longer-term no-till soils drilled and up in rows. Things were not ideal and there is the occasional headland and poorly drained area that I doubt will come to much but, in a year, as difficult as this I feel it's a great result so far.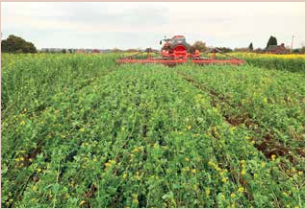 Improved infiltration rates increased organic matter levels, far better soil structure and green covers have kept direct contact between soil and machinery minimal making our soils so much more resilient to these extremes of weather that seem to occur with increasing frequency. All is however far from rosy though. In complete contrast to our success on these longer-term no-till soils is a complete failure to establish any crops at all on land more recently bought under the care of our contract farming operation. In autumn 2018 we took on a new estate with a soil type similar to our home farm. Although it had been farmed very well its history was very conventional heavy tillage-based establishment, but the owner had clear ambition to transition to a conservation ag approach and asked us to take on the work.
We took our usual approach to new land and lightly surface cultivated a lot of it to level things in that first year, we established cover crops ahead of spring crops, setting up for the planned full no till transition this autumn. But as I write not a single acre there is established. The soil simply has not dealt with this autumn's extreme rainfall well at all. Despite a good drainage system its ability to infiltrate and inferior structure has kept it far wetter and unworkable than land we have become more familiar with, it simply lacks the resilience which again was visible through the dry spring period where crops on that estate seemed to visibly suffer far greater through that dry period we encountered ……………. Conservation agriculture, the system that helped mitigate the losses of the dry spring is also helping me deal with such a wet autumn as well.
The last autumn I can compare 2019 to and certainly the only other very wet autumn I was no-tilling through was 2012. Looking back upon the experience from that year the key lessons were that patience paid, conditions matter more than dates on a calendar and a good spring crop is better than a poor autumn one. It can be very frustrating to be sat with a large workload ahead but limited by ability of machinery to get the job done, a lot of no-till drills are purposely heavily or have ability to transfer a lot of weight to coulters which is often required in uncultivated land yet when wet this is the last thing you need.
I have found the Avatar's wet weather performance to be better than the 750a. Although there are clear similarities between the coulters, a lot of small changes all add up to keep the Avatar unit running both cleaners and seemingly better able to close the slot when soils are sticky. As well as work rate improvements, the 12m working width has also completed our 12/36m CTF jigsaw meaning any soil damage from the tractors weight is at least limited and easier to repair if required.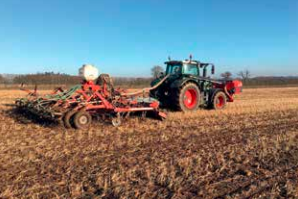 All drills however have a limit, and generally that limit is lower for a disc drill than a tine when it comes to wet conditions. So if conditions improve we plan to complete wheat drilling with our ULD converted CO6 (featured in issue 1). Modifications to drawbar have been made to allow the tool bar to be removed from seed cart and pulled directly behind the tractor fed by front hopper to distribute weight evenly. It feels like a great wet condition set up which might just make the difference in marginal establishment situations.
If conditions improve, we can have the CO6 working alongside the Avatar to give us 18m of drill coulters to make the most of any small weather windows we might get. Where you don't have soil resilience maybe sledgehammer capacity is the answer! It's also worth remembering that our best crop of winter wheat in that difficult 2012 season was established in early March. So, plenty of time yet!! Resilience is the word that I keep coming back to. It's becoming so important in every aspect of our farm business today, financially, environmentally, mentally even. This is what 2019 has reminded me more than anything as the most important thing to build into any farming system. It's a lesson learned and autumn 2019 is reminder from mother nature firmly taken on board!