Agritechnica, as always, is the place to see everything that farming has to offer from around the world. You come across stands way bigger than anything you would see other shows and yet you have never even heard of the brand as they don't sell in the UK or Europe yet as they "haven't seen them as big enough markets". This year we went with an aim to find the drills that aren't yet sold in the UK. However, they might one day add to the 18 manufacturers that already sell direct drills in the European market. The other thing that struck us while at the show was just how many stands had crimper rollers on them. It would seem Europe is taking very seriously the actual or impending loss of glyphosate and are preparing already. Here are a selection of the drills we discovered while at the show.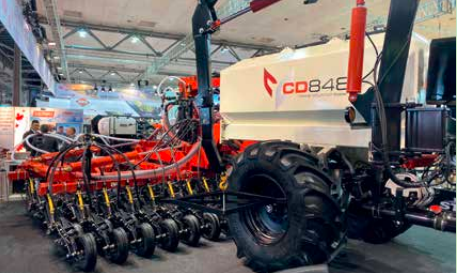 Bourgault CD848
The CD848 is a new machine for Bourhault this year. The CD848 coulter drill is 8m wide and has a 4,800L tank. It is available in 6″ to 15″ spacings and features a TopCon rate controller. Also available will be the 3-row HD848, with 10″-15″ spacings, PHD seed opener assembly. Both models feature a small seeds box, 2 pull options and a 3 compartment steel tank. 
This concept model has been subject to testing over the past few months, and went into production this Autumn just passed, meaning they will be available for the 2020 cropping season in North America.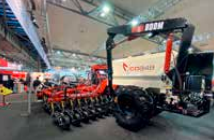 Bourgault's Matthew Waugh filmed a walkaround on the CD848 which really helps see what the machine can do – follow the QR Code to watch the video.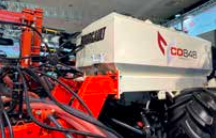 Multiva Forte FX300 and FX400
Multiva say that the Forte machines represent the most reliable, versatile and accurate seeding technology on the market. We saw them in both 3 and 4m widths. "The unique coulter technologies of Multiva machines guarantee accurate results in all conditions. Seed and fertilizer are seeded at the same time with the same coulter at different depths. Multiva Forte is suitable for both cultivated soil as well as direct drilling. Using the Multiva seeding method, you can flexibly adjust to different conditions, the technology is proven by thousands of happy customers since 1984."
"Thanks to the unique coulter on the Multiva drills, the seeding depth remains uniform even on uneven fields. In Multiva seeders seed and fertilizer are placed from the same coulter to seedbed close to each other. Small layer of soil in between the seed and fertilizer prevents direct contact. Fertilizer is fed from the front of the disc to the bottom of the seedrow. The seed is led from the back of the disc to the seedrow slightly above the fertilizer. The seedrow closes due to the packing effect of the covering wheel and the rear wheels, so that the seed is guaranteed to get good soil contact. When the fertilizer is placed in the same seedrow near the seed, the nutrients are immediately available for the seed, so the sprouting is fast, even and strong."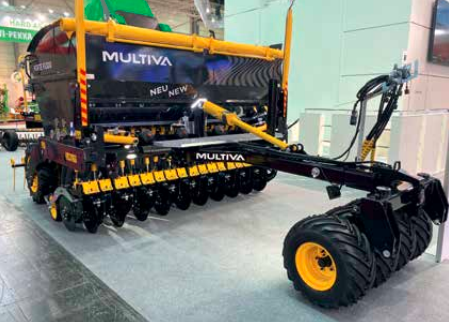 According to Multiva, with the Forte, direct seeding can be achieved in all conditions, even in the hardest soils due to the high coulter pressure. The maximum coulter pressure can also be achieved with empty hoppers. The front straw harrow is a common addition to the drill, clearing straw ahead of the coulter and spreading any piles of straw.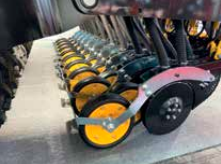 Arbos UST
The AS-UST Air Seeders are developed for conservation tillage sowings of all kind of winter cereals, OSR, forage seeds and cover crops. The AS-UST planting unit with little wings creates a furrow by raising a layer of soil. This layer then drops off over the seed after the passage of the planting unit. This technology enables the seed to be planted without any contact with soil remains. Moreover, the little wings create an efficient mechanical weeding process.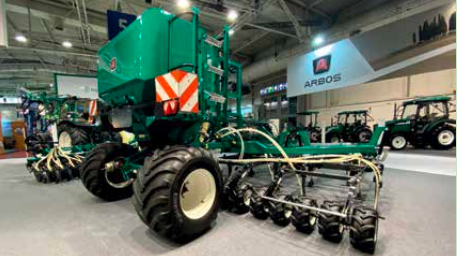 Features:
• Transport width 3,0 m • Independent frames with 4 sections
• 3-point hitch, II and III cat., with rotation joint
• Hydraulic blower mechanism, dependent on the tractor
• Coulter type: UST Opener with safety bolt
• 2 x volumetric dispensers
• Seeding monitor: Monotronic 32
• Pneumatic seed transportation
• Seed tank 3000 L with 2 independent covers; version seed/
• fertilizer with variable volume tank
• Inspection platform for seed tank
• Electronic scales for sowing test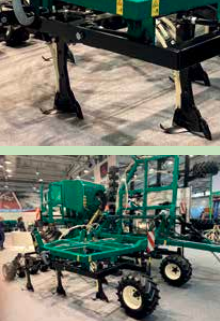 • Transport lights and reflection panels
• Hydraulic distributors for tractors: 1 priority distributor with flow control, 1 single-acting distributor with float function, 1 dualacting distributor, 1 free hydraulic return flow
• Road transport wheels: 2 of 600/50 – R22,5 (UST 450) – 2 of 700/50 – R22,5 (UST 600)
• Compression wheels: 15 (UST 450), 20 (UST 600) of 17×8.00-R8
• Depth gauge wheels: 3 of 26×12-12 (UST 450), 4 of 26×12-12 (UST 600)
Agrisem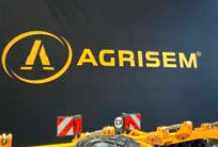 This will look familiar to many, won't be for sale in the UK as far as well were told. There was very little information available on the Agrisem Sly Boss drill, but if you are a European reader, this drill is now available in yellow.
Indecar Neo Air Drill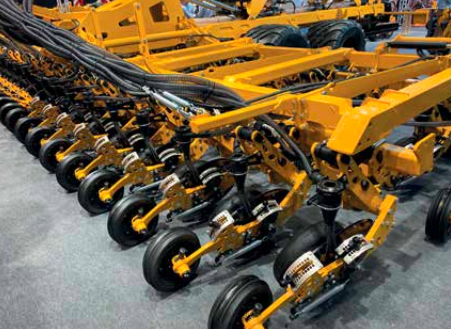 Indecar is an Argentinian company dedicated to the manufacture and marketing of agricultural machines and implements aimed at providing practical solutions for farmers. Indecar Neo Air Drill fine / coarse grain seeder , in versions 6 to 9 meters wide, with a 4,800 litre mounted hopper.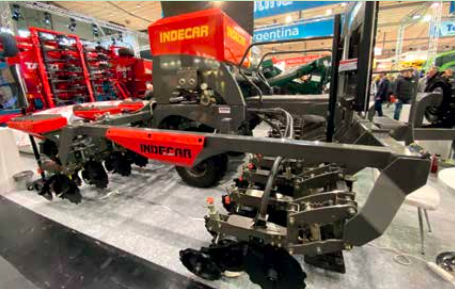 It is available in the following Configurations: 17.5 / 35 / 52.5 / 70 cm between rows. It has a 4,800 litre hopper, mounted on the central frame. Compartmentalised for seed and fertilisers. The chassis is made up of a central frame, with vertical folding of wings. Sowing units mounted on parallelograms, with hydraulic compensation system and wings with mechanical preload.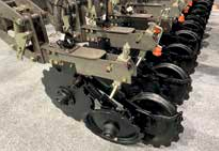 The seeding system is pneumatic per line (patented) and optionally can have hydraulic motors with variable dose. Available in 6, 7, 8 and 9m. This drill has 7 different coulter options available, all aimed at providing a solution for differ soil and climate types, from the Euro to the Planthor Premium. It's a drill you could spend a lot of time specifying.
Tanzi Tigon 8.42
Tanzi are another manufacturer from Argentina. With more than 30 years experience in building direct drills, they have developed this innovative high-disc system in the Tigon 8.42.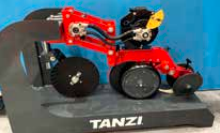 The new Tigon is built on a stable and heavy chassis that will allow the machine to work in the most demanding conditions for direct drilling. With a working width up to 8m and a 5000 litre capacity. It can have either one, two or three tanks that will allow farmers to sow a large area with low time requirements to refill. Its flexible chassis, which Tanzi say is unique in its segment, ensures the drill carefully follows any type of terrain. The ISOBUS controller for drilling is offered as an option, which allows you to drill crops with absolute control, applying variable doses defined by maps and make automatic adjustments within the field. Drilling width is set at 19.1cm.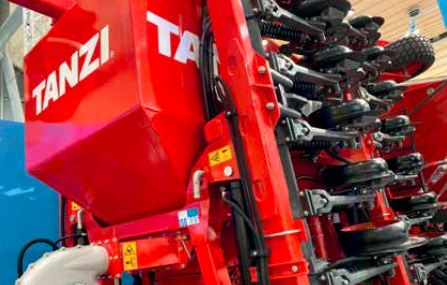 Features
• It is equipped with an active hydraulic system, which maintains a uniformity of planting regardless of conditions of the ground. You can select up to 250 kg pressure.
• The distance of 1.5m between trains sowing ensures a large flow of stubble and waste in turn provides greater accessibility for maintenance.
• Thanks to the hydraulic locking system, by only moving a single lever is possible to use a single planting line (front or rear), which allows drilling a distance 38.2 cm.
• It is equipped with a pneumatic metering system with approved efficiency at international level that ensures consistent delivery of air, seed and fertiliser.
• The high flotation wheels ensure minimal ground compaction and greater stability in transport.
• Maximum wheelbase to avoid tipping in transport.
• Outstanding thermosetting electrostatic powder coating system that provides high impact resistance, durability and the best surface coating in the industry.
Summary
Agritechnica is an absolute joy to attend. It's a place full of ideas and new technology. I'm sure there were more drills we didn't find while walking around the show and so this is just a selection of what is available worldwide. If you get a chance to go, it really is a must do event for farmers. Especially if you are interested in new ways to change the way you farm.