I farm 155Ha owned at Greenknowe and around 100Ha contract farmed in Berwickshire, Scotland just 6 miles from the border at Coldstream. The land is clay and sandy loam, deep soils, very variable but the best of products to run an arable business on, any limiting factor is probably me! I do all the farm work myself except for the corn carting, high clearance spraying and baling. I have used a Mzuri Protil 3t striptill drill for 5 years sowing 9 different crops. My son, Harry (age 13) and I have been flying DJI drones since 2014 and he posts the video's on our Youtube channel 'Everything is Greenknowe' and pictures on Instagram under the same name.
If I said the landscape had changed since my last piece you may think I meant political but looking over my farm I definitely mean the physical. My father always said my mouth would get me in trouble, and saying in print how well the strip tilling had gone the last 4 years, and how great the harvest had been, certainly jinxed me. I have never seen my farm look so poor and the whole county, according to most, has never looked so bad. Regardless of the system you have, everybody's crops have suffered.
The harvest was mostly in the shed the last time I wrote, with only the spring oats and beans left to cut. The Canyon oats, sown into spring barley stubble and grown on contract for Quaker, mostly stayed standing and turned out to be one of the best spring oat crops I've grown at over 8 t/Ha and making the grade to fill your breakfast bowl. The spring beans also were an excellent crop requiring very little drying. I have always used Reglone to desiccate the crop, I keep my own seed and rely on the Reglone to finish off the crop so I will miss it now it's gone. We must find a way of convincing governments to listen to science and accept that there are consequences when products are removed, with a later harvest we have more drying, more fuel usage, more compaction and less chance of sowing a following crop leaving bare soil and in some cases in Scotland it will rule out home saved pulse seed at a time when we need more home grown protein.
The weather problems started slowly in July when straw became almost impossible to bale and difficult to deal with when chopped onto damp ground. I found waiting to clear fields frustrating and the knock on effect of delaying my Ergo OSR sowing hasn't helped the struggling crop. I ended up chasing the muck spreader around with my drill in the drizzle. I get hen muck from nearby units hauled and spread by a neighbour. Last year I think the benefit was obvious but two of the last three years I have questioned whether I do more harm than good with this input. It is spread onto the stubble before drilling straight in with the rape crop or second wheat. I find more often than not the ground is damp or wet when spreading and the midden areas and wheelings are difficult to deal with, often the compaction can be very noticeable in the following crop.
I think my soils are improving year on year but the application of muck can cause serious problems on anything but the best of conditions, so for me the jury is still out!
I have done some contract work this year and the sowing I did on CTF ground was a real eye opener. I shouldn't have been surprised but the billiard table between the wheelings was easy to sow into and noticeably better than the driven on area, if I could find a way to try it with my system I would!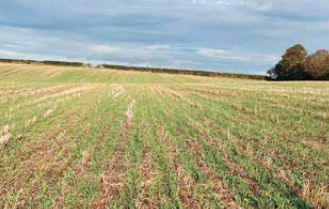 I find the quantity of opinion and advice on soil health and tillage mind blowing, it is always interesting but also confusing at times. As well as reading DD I do follow Soil doctor and #soilhealth on Instagram, they provide a vast array of information on many topics from, is brix worthwhile, companion cropping, cultivating the microbes in your soil to create something similar to your local woodland as this contains local specific microbes suited to your soils, bacteria v fungus in soil (something I am looking at) to the drilosphere (I looked it up), while it is all very interesting it is difficult sometimes to find a way to put it all into practice up here.
I have reduced my fungicide costs in the last two years and I think the improved soil health, wider rows and variety choice have all played a part. Cover crops are usually very difficult to establish successfully in Scotland. In 2018 we had the time and conditions to go over ground after harvest and put in cover. I put in stubble turnips with the Mzuri and they were used over the winter by a neighbour who needed grazing. I think the field benefited from it but it was impossible to do any this year. I think along with chopping some straw, the grazing and muck when dropped straight from the animal may be the easiest way to increase soil health. I worry that a lot of the benefits I have gained from my limited time in strip tillage may well be diminishing this year.
The fields were sown in good condition but since the day they were sown they have had rain 2 out of 3 days for 2 months and 5 to 25mm each time. I know that is nothing compared to some but it is still too much. Like many, my ground and my system cannot cope with this continual heavy rainfall and although drilled in good condition, I have wheat and some barley which will need to be re-drilled with a spring crop when it eventually dries up. Should I have gone deeper with the leading leg and shallower with the seeding leg? I will never really know as some establishment is good and some non-existent. It has happened before, even when I ran my previous plough, combination system. I think in retail it is sometimes practiced to disregard the top and bottom 10% of feedback as it is impossible to change, maybe for my system this is the bottom 10%, I must accept it, learn from it but not make wholesale changes based upon it and remind myself the 80% in the middle is a vastly improving picture.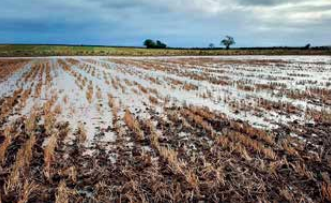 I recently have had some Solvita burst soil tests done and as I hoped, the results were positive. CO2-C (ppm) 93, C:N ratio 11.6 I think now my soils are as good or better than when I had livestock and grass in my rotation. Worm numbers are amazing and the soil before the worst of the weather hit had a healthy smell and texture but that changed the day after I finished sowing my wheat at home. When the weather finally broke the wheat sown at the end of that week hadn't chitted and sat in the waterlogged, freshly tilled ground and quickly began to rot, these are the very poorest of my wheats at the moment. The tilled area created with the drill can cope with wet weather but the sustained nature and volume of the rain we had has been too much for my system and my soils.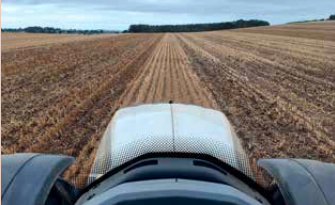 This year, unlike last year, some of the best established crops in the area have been combination drilled straight behind the plough, sometimes into what looked like very wet soil. I do look at those crops and wonder if I should have reverted back to that myself but the only wheat I sowed with that system surprisingly also partially failed, so maybe there was nothing else I could have done!
I know this year has been one where many systems have struggled but I think that when it dries up my soil should still be in better condition than the ploughed ground and if I have to re-drill some then that is unfortunate but the risk I take. After 4 years of good crops, reduced fuel usage, reduced labour, better margins and hopefully the legacy of healthier soils I will just have to live with a bit of friendly stick from the neighbours, play the long game and TRY to keep my big mouth shut.