There have only been a few times in my life I have been truly wow'd at an agricultural show. But I certainly have one more to add to the list after visiting the John Deere stand at Agritechnica 2019. As always, the stand was big, and we were very lucky to have Nathan Kramer from the USA to show us around the new X9 combine. Although Nathan left out a lot of the still to be announced details we really wanted to know! But it was stepping into their future technology zone that really captured the imagination. Its was a mix of real world and possible solutions for farming. It was, however, all very people centric. Tools to help farmers do a better job, not tools to replace farmers. This was a nice thing to see.
Here is a little walk around the Future Technology Zone and a little bit about each of the displays.
The biggest drone I have ever seen!
On show was a demonstrator model of the VoloDrone equipped with a John Deere crop protection sprayer, which is ready for its first field flight. Offering a potential payload of 200kg, the VoloDrone is able to cover a big area, even when ground travel conditions are far from optimal. The drone is the result of a collaboration between John Deere, who bring the requirements of farmers and the Urban Air Mobility pioneer Volocopter, who are working on producing flying taxis for moving people from A to B. While small drones are already being used commercial in China, large drones in agriculture where you are trying to spray bigger areas could be the way to go. The VoloDrone is not limited by topography, spraying hillsides would be much easier! But it could even be used for sowing seeds.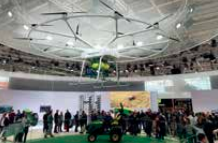 The VoloDrone is powered by 18 rotors with an overall diameter of 9.2m and features a fully electric drive using exchangeable lithium-ion batteries. One battery charge allows a flight time of up to 30 minutes. The VoloDrone can be operated remotely or automatically on a pre-programmed route. The main issue of course being that in the UK that the aw does not allow us to use drones to drop anything from the sky, but by the time our learned government get round to changing UK legislation I would imagine this technology will be ready.
See and Spray – Blue River
Continuing on with the spraying theme, but applied in a more conventional matter, John Deere introduced Blue River's "See and Spray" technology. The aim of this software is to save 90% on herbicide usage by only spraying weeds that are identified while opening the potential to use other herbicides that are not appropriate for blanket application.
How it works:
Sense & Decide – their machines see every plant and determine the appropriate treatment for each. They have developed intelligent models using computer vision and machine learning that can distinguish subtle differences between plants and weeds of many species and sizes. See & Spray does not rely on spacing or color to identify weeds. Instead it has the ability to recognize differences between plants in conditions that would challenge even the human eye. Robotic nozzles target unwanted weeds in real time as the machine passes. With great accuracy and precision, See & Spray applies herbicide only to weeds, avoiding chemical application on the crop or on areas without weeds. Precise application allows growers to reduce chemical usage significantly and unlocks the ability to use herbicide alternatives to effectively control weeds that would otherwise be resistant.
This is the sort of spraying pattern you get: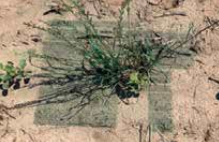 Watching the demo on the John Deere stand and talking to the Blue River staff made you realise how close this technology is to being available. And right next to the demo was an autonomous sprayer!
Autonomous Crop Sprayer
John Deere's autonomous crop sprayer has a 560-litre spray tank. The high ground clearance of 1.9m and fourwheel steering make it extremely versatile, while the front and rear tracks minimise ground pressure and greatly extend the operating window. Just imagine this sprayer fitted with Blue River See and Spray technology.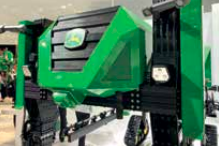 Smaller "Hive" Technology Drones
While the Volodrone might be the right for certain farms, the ability to spot spray using smaller drones in fields will appeal to other farms. These smaller drones are equipped with weed identifier software and crop sprayer nozzles, allowing weeds to be identified from the air and then specifically targeted. The 10.6-litre tank is filled fully automatically at a vertical docking station, where the battery is automatically charged as well. Flight time with a fully charged battery is 30 minutes. The big advantage of this drone is the precise application of crop protection products, reducing the volumes used. This "stack" of smaller drones can be towed to the field and then controlled by a single operator (laws permitting) while that driver is doing something else in the field or adjacent field.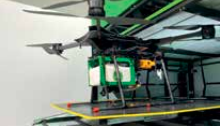 Electric Autonomous Tractor
John Deere's new autonomous tractor concept is an electric drive unit that can attach to implements a farm already owns. The tractor has an output of 670hp, so will be able to pull most implements on a farm and can be equipped with either tracks or wheels. Where more weight is required, it can be ballasted up to 15t. In lighter trim without ballast, it has the ability to help reduce soil compaction. Thanks to the electric drive, there are no operating emissions and noise levels are extremely low.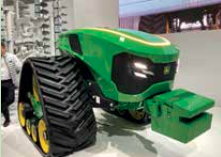 Further advantages include low wear and maintenance costs that accompany all electric vehicles. No information was available at the show on running times and recharge times, but as with all concepts, more details will emerge over the next few years. If you have multiple tractors on farm, I can see the possibility to change one of them to this sort of electric tractor would be appealing in the future. As always, it's this transition period in the adoption of technology that presents the biggest issues on farms.
John Deere's Futuristic Command Cab Control Centre
We were introduced to Neil Macer, John Deere's product manager for this project, who gave us a tour of the technology being employed within the Command Cab. This isn't a operational system, but more a vision from John Deere of how a future cab employing artificial intelligence (AI) could be operated by farmers. With its central touchscreen display giving full farm visibility, networking of all machine components, John Deere presented a vision of how a connected farm could operate. It integrating real-time weather data, all machines on the farm or within your contracting business, individual machine monitoring and job management, the cab becomes the command centre for all agricultural operations. Equally this information could also be available in the farm office. Vertical digital satellite and fuels displays were also on the A pillars and a secondary curved screen also spanned around the top of the cab. Plenty of screen space to have The Farming Forum live on the screen at all times!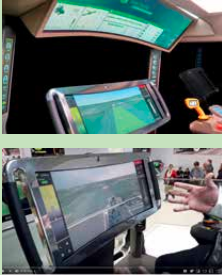 Summary
We spent over two hours talking to the John Deere staff in the Future technology zone. The fact they were showing these new ideas at Agritechnica means we are unlikely to see any of this technology on farm within the next 5 years, but you couldn't help being enthused by the possibilities available in agriculture. If children in school saw this, I think the idea of a career in farming would be a lot more appealing. It really is an exciting time to be a farmer.